Contractor Flips Paving Stones on eBay

'Flipping' – a common selling technique where an item bought from one location is immediately sold via another – is being used by a contractor to take advantage of the healthy demand for used paving stones.
York stone paving slabs removed from the streets of the town of Ironbridge in Shropshire were bought from Telford and Wrekin Council by a local building materials supplier, and they've been selling them on popular online auction site eBay.
Improvement Programme
The York stone has been removed from the Wharfage and Tontine Hill areas of the historic town as part of a planned improvement programme. They were sold for a reported £90,000 to the contractor, and the local authority claim in the long run they'd save £300,000 on maintaining the previous surface.
They also say repairs would have been required, had the paving been left in place instead of being replaced by a new block paving surface. The new block paving has cost in the region of £380,000.
Ironbridge, lying on the River Severn, is one of Shropshire's top attractions and is known as the birthplace of the Industrial Revolution. Ironically, these days it's hard to tell as most of the industrial buildings have gone, as have the grimy back streets and belching chimneys. Several museums chronicle the town's industrial past.
Nature has reclaimed many of the old industrial sites leaving the much photographed and pretty wooded valley – consisting of a network or country lanes, bridleways and footpaths – and the famous gorge.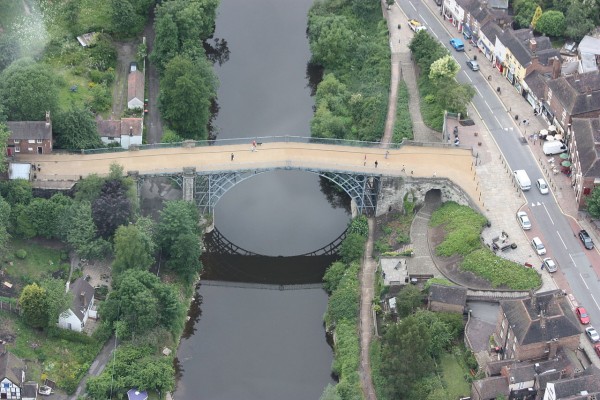 Not just eBay
Staff at the building suppliers who purchased the York stone from Telford and Wrekin Council have been somewhat cagey about this revolution that they're simply reselling on the worldwide auction site, but did say that this isn't the only reselling method they're using. They kept some slabs back for direct sale from their premises.
Campaigners Not Happy With Loss of York Stone
Local campaigners weren't happy with their local authority for removing the York stone arguing it complements the colours of the gorge and the bridge stonework. Furthermore, they're not happy that residents weren't consulted regarding the election of a replacement surface.
The council countered these arguments by saying the option of consultation was offered, and the York stone could hardly be described as a historical feature since it was laid as recently as the 1980s.
Reused Paving Slabs Very Popular
The Shropshire building merchants aren't the only sellers of paving slabs, as natural paving stones are a very a popular option as home owners, or even commercial settings, automatically get a pleasantly weathered looking, natural surface by using them.
One of the best ways to source real paving stones is to go direct to a company that specialises in reclaimed materials, such as York stone. The main benefit of buying through this route is being able to specify the exact type and finish to complement the space, as well as getting some personal advice on what type of stone is best for your project.
York stone is certainly not the only type of natural stone that is in high demand. Another popular surface is granite – it's strong to the point of being a popular choice for heavy foot traffic areas such as city centres, and offers a stylish, low maintenance option for the homeowner too.
So, if you want to impress your neighbours, source some reclaimed paving stones and update your drive and paths to give your home that beautiful rustic look.
Matt Coussens is the director of Milestone Supplies, providing Roofing, Natural Stone and Reclaimed stone that is perfect for your paving projects.