The cuisine of India is renowned for its masterful use of herbs and spices to create an exciting array of flavours and taste experiences. Whether it's breakfast, lunch or dinner, cooks throughout India truly make the most of the ingredients they have available to create some of the most complex flavours in the world.
One such ingredient is a light, fragrant herb that imparts a delicate flavour onto dishes: dill. Containing high levels of calcium, magnesium and iron, this aromatic herb is also popular in Europe – particularly Scandinavia – mostly when cooking or serving fish; but in India, it crops up in a multitude of ways. It even goes by a number of names, including savaa in Hindi, soa in Punjabi and shepu in Konkani.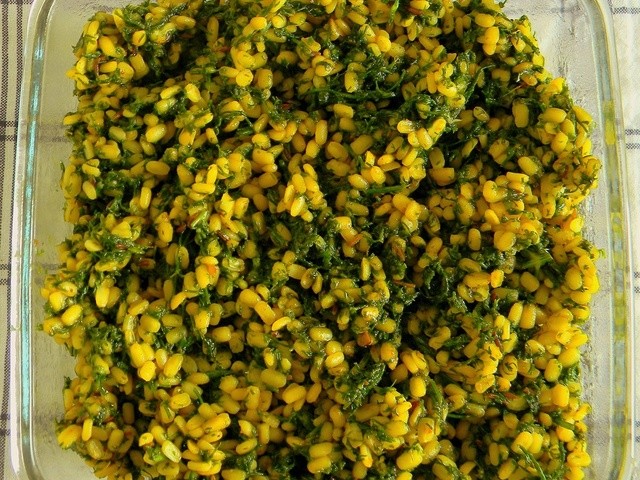 With delicate, fern-like leaves, the main thing to remember when using dill is that it is best used as fresh as possible, as it can start to lose its flavour and shape after it has been picked. Here are some ways you can use it in Indian cooking:
Dill dal
Originating from north Karnataka, this is a dish that truly showcases the unique flavour of dill. A traditional daal is made by cooking onions and toor dal with tomatoes, chilli powder, mustard seeds, green chilli and garlic, before coriander and generous handfuls of dill are added at the end. Serve with rice and freshly-baked chapati.
Shepukakdiraita
Similar to the Greek dish tzatziki, but using dill rather than mint, this is a popular side dish served alongside curries, thalis and pilaf. Fresh yoghurt is combined with cucumber, sugar, chaat masala, red chilli powder and a large bunch of fresh dill to create a perfectly cooling accompaniment.
Chicken and dill masala
You've probably heard of chicken masala, but the addition of dill takes the dish to another level. Chicken pieces are marinated in salt, turmeric and chilli powder, while onions, garlic, ginger, cumin seeds, tomatoes and dill are cooked in butter. One the tomatoes are cooked, the chicken is added along with pepper and garam masala, and simmered until the chicken is cooked through and you have thick tomato gravy.
Aalooshepu chi bhaaji
This vegetarian dish originated in Maharashtra, but is now enjoyed throughout India. This popularity could be due to the fact that it's incredibly quick and easy to make, but packs a lot of flavour. Potatoes are peeled and chopped into cubes, then are cooked in a pan with garlic, red chillies, turmeric powder, mustard seeds and two large bunches of fresh dill. Serve warm.
This is just a sample of some of the Indian dishes that celebrate the light and refreshing dill, and of course there are many other herbs used by Indian chefs, such as coriander, mint and marjoram. To experience for yourself how these wonderfully fresh ingredients are used in authentic Indian cooking recipes and techniques, pay a visit to one of London's best fine-dining Indian restaurants, where expert chefs will wow you with their modern and inventive take on traditional, regional cuisine.