If the current property shortage has convinced you to 'improve' rather than 'move', you'll want to make the most of every penny you have available. We've put together our top tips for the best home improvements you can make, whatever your budget!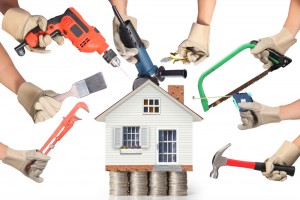 If you have £20,000 to Spend:
If you have £20,000 in the budget, there are a number of improvements you can make. The most 'profitable' changes would include permanently adding more square footage to the property. Loft conversions are still popular additions to property; offering an additional room without losing any outdoor space, and ground floor extensions to create open plan kitchen-dining areas are also increasingly popular. You can expect to pay around £600-900 per square metre for a loft conversion and around £1,500 per square metre for a single storey, ground floor extension.
If you have £10,000 to Spend:
If you have £10,000 to spend, a garage conversion is a great way to create an extra room on a budget. With less people choosing to use them to house cars, garages are often just used to house DIY tools, old paint and any household items we don't want but can't quite bring ourselves to part with. Now's the time to bite the bullet though – simply using your garage as a large storage space is a costly waste. Move any garden tools and sports equipment to a garden storage unit and turn that wasted garage space into a useful extra room for less than £10,000.
If you have £5,000 to Spend:
If you have £5,000 the best home improvement you can make is the installation of a new kitchen or bathroom. Kitchens and bathrooms add really value to your property and instantly make them more attractive to prospective buyers.
If you have £2,000 to Spend:
£2,000 is not a huge amount of money when it comes to home improvements, but you can carry out quite a bit of 'maintenance' work with that budget. If there is an area of your home that is looking a little 'tired' a budget of £2,000 will enable you to replace the flooring or have the walls skimmed and decorated.
If you have £1,000 to Spend:
£1,000 may not seem like a big budget for home improvement, but you'll be surprised how much of a difference a budget of that size can make if it is used to give your home a general 'refresh'. Freshed paint, a re-grouted bathroom and kitchen and a few new home accessories (think cushions, pictures, blinds/curtains and mirrors) will make your home feel brand new and if you're careful you'll be surprised just how far that budget will stretch.