In the most simple way, the static pages are nothing but the HTML pages that you view on different browsers after they are uploaded on the servers. The requesting clients get this uploaded document as a response. If you take a look at the source code, you will realize that there is no difference in them and so for the same reason they are termed as static. They are even called as web pages.
The hand-coded HTML is what people call as static. Though such sites are not found now frequently, some of the older sites are purely hand-coded. There are a number of reasons to keep the site static and one such reason is that it minimizes the need to update the site content. In short, if there is no need to update the content regularly, better you can have a static content that needs no regular management.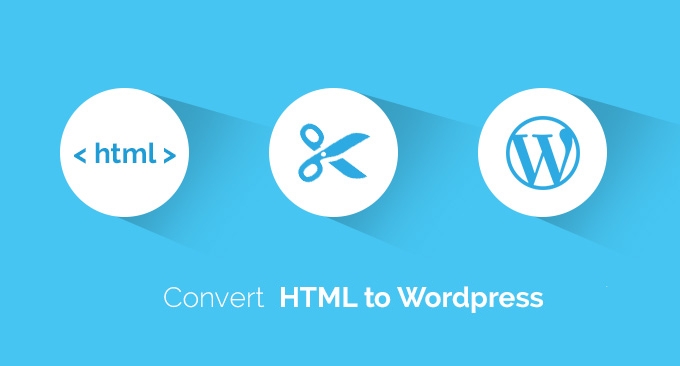 Today, a large number of people want to convert from HTML to WordPress & PSD to WordPress and the reasons for the same are as below:
The need to use CMS
It is true that you may need to look for alternatives even before you start with the web development project. When it comes to publishers, the need to use CMS systems like Drupal, WordPress, Joomla becomes the best solution to deliver content in the form of static or dynamic pages. From these, WordPress is one of the best solutions for a number of websites that are for e-commerce or blogs.
Apart from updating the content more frequently, there are some more reasons too for having a CMS solution. like…
If you are planning to have blogs on your website

The contents of the site will be updated or edited by non-developers

Access the site from the remote location without having the need to download any software.
If any of these three things applies to your web development project or site, better have a CMS.
You can easily administer your website from a single admin panel by converting HTML to WordPress. The conversion has more number of benefits too. You can easily alter the structure of the website without a CMS. This can prove beneficial for a small site, but is not suitable for large businesses.
Advantages of WordPress
Once you have taken the decision to have a CMS, then the next thing that comes to your mind is to find the right CMS that meets our goals, right? It is true that you can develop your own CMS for your website, but then it takes more time for the development process.
So the other option is to go for pre-built CMS and deploy it. It comes with a number of benefits and especially if it is WordPress, it has the following advantages:
Used widely: Mostly, web servers come with pre-installed WordPress. The survey conducted by Web Technology in 2012 states that the market share of WordPress is 53.7% compared to any other CMS. Joomla, which comes at the second place has a market share of 9.3%. This means when it comes to Content Management Systems out there, WordPress is the popular option.
Open source which is free: This is not an outstanding feature as there are many other open source CMSs that are free. Still, when we say free it means you don't have the licensing fee, no upgrade cost, no support cost, maintenance fee, etc. The best thing about the open source is that it comes with a big developer base that provides support to the users. Even the users can contribute their part to bring in positive changes to the software.
Ease of extensibility, installation and customization: If you have some knowledge of WordPress, then you must have heard of its 5-minute installation too, right? All you need to do is to download the software, get it uploaded on the server and use it with WordPress after creating a database.

Something that is fascinating about it is that once the setup is completed, you can modify and extend it easily. You can add new functionalities to the website just by making use of the hundreds of plug-ins that are available here. Again, a large number of the plug-ins are free too. You need to pay some for the plug-ins from the third party vendors. One such plug-in is WP e-Commerce plug-in, which can be used to create storefront. For big companies that have incompatible IT infrastructure, they try having centralized authentication system using Active Directory and Microsoft Server. By using WordPress, a new authentication system can be applied by using a plug-in.

Now you can even design your website without any knowledge of CSS by using the free online themes.
Simplified blogging: You can easily run any kind of business without using the blogging page as it is optional with WordPress. But, blogging, which is a strong element of WordPress, can be used to add a personal touch to your online store.

With WordPress, blogging has been simplified with the help of some features like content categorizing, blog talk, uploading digital media as well as tagging. You can easily get comments from your readers as well revert back to them through the blog talk. In short, it allows you to connect with your audience. You can make use of tagging and content categorizing while posting a blog. This helps search engines to navigate through the site as well as helps you find the content.

You can even control the view of your blog with this feature. The text editor helps to check spellings as well as auto-save. It even provides you with a preview of your blog.
Resists spams: The plug-in Askimet protects your blog from trackback and comment spam. The best thing is that it can easily block thousands of comments on bloggers daily.
Search Engine Optimization: Just by making use of WordPress you are not going to get large traffic on your website. You need to opt for SEO strategies for this purpose. The extensibility and customizability features of WordPress help too. Automatic pinging makes it easier to have SEO on this CMS system. This means all you have to do is blogging and WordPress will alert the search engines about the update on your website. Though it is primarily considered for blogs, press releases and any other content can be added to the feed.
Choosing the right CMS like WordPress completely depends on the customizability as well as extensibility along with content generation and management. So if the following reasons satisfy you then it is time to switch your business to WordPress.