Maintaining the safety and beauty of our walkways and plazas is a challenge for many managers, home owners and business owners. Without clean, easy access to our stores and offices, pedestrians will not want to enter our buildings or relax a while on our plazas… also, an unkept walkway could turn away potential buyers – if you're looking to sell your home.
There are many things that can be done to keep our pathways and plazas clean and beautiful, and still comply with the Americans with Disabilities Act requirements to have well lit, well drained, and non-slippery surfaces:
Most walkways are concrete, and have a average lifespan of 20 to 40 years – However, if poor materials were used and good construction and design practices were ignored, a sidewalk can fail after only a few years. Previously, tearing out the sidewalk was your only choice. Nowadays, you can use polymer-based cement resurfacers to renew your spalled, weatherworn or cracked concrete to look like new.
Ardex All-Purpose Concrete Resurfacer costs approximately $25 for a 20 pound bag, and covers between 50 and 60 feet. It's great for resurfacing patios and concrete stairs as well.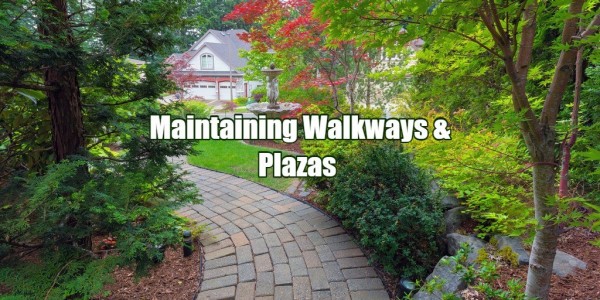 If you have a sunken brick pathway, watch this video with Roger Cook of This Old House – "How to Repair a Brick Walkway".
There is also an excellent video by Roger Cook on "How to Repair a Mortared Flagstone Walkway". This applies to plazas as well.
If your walkway is made of pea gravel, you can keep the surface level and even by raking over the stones. Remove debris with a leaf blower. Re-level the walkway about every 2 to 3 years.
Plazas require ongoing maintenance to keep them looking their best. First, sweeping and trash removal should be done every few days. Second, if your plaza is made of stone pavers, you should clean them regularly with a wet mop, plain water, and a little dishwasher soap. Pressure washing is also an option, but try to keep away from the seams.
Third, remove all weeds growing through the seams of the pavers. Sprinkle a powdered herbicide in the cracks after manually pulling out all the weeds first. Fourth, use a sealer made for natural stone services. Apply the sealer with a paintbrush after you make sure that it is totally cleaned. Fifth, you'll need to re-grout the seams, using a chisel or a putty knife to apply the grout. Scrape away any dried grout. You can apply a grout-specific sealer if your plaza gets very heavy pedestrian use.
If your brick plaza is uneven, you can pick up the bricks and relay them. If you have severe drainage problems, consult with a landscape architect if possible. Brick pavers can be sealed and cleaned every 2 to 3 years. Use a diluted masonry detergent. After it dries, apply 2 coats of either a Dry Look sealer or a Wet Look Sealer. To address weeds growing in the cracks, sweep in some Polymeric Joint Sand.
Concrete sealer can extend the life of concrete plazas. Clean once a year, repair all cracks, seal the joints, then seal the concrete surface.
All these tips can help you to preserve your walkways and plazas.
Jodi Bakst, Broker-Owner of Real Estate Experts, works with a highly trained team of strong buyer & seller agents serving Chapel Hill, Durham, Cary, Apex and Morrisville, North Carolina