Have you heard the term 'final cut' used in film production in the past? It normally refers to a movie where segments of the footage are shot over a couple of months before the director sits down and goes over it all and merges parts of it together into what is known as the 'final cut'.
While your video may not be nearly as expansive, there are benefits to being able to cut your video so that you can trim out any unwanted footage as well as split it into segments and merge together those segments in a particular sequence. In fact with the help of Movavi Video Editor it can be done quite easily.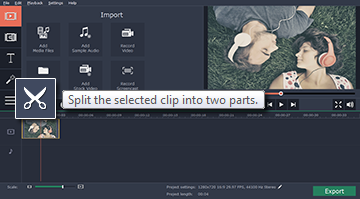 If you want to cut video, the only thing you need to do is:
Load the video by clicking 'Add Media Files' and selecting the video that you want to cut.
Click on the video in the 'Timeline' (where it will automatically appear) and move the red marker to the point where you want to split it.
Click the 'Scissors' icon to split it at that point.
Repeat as necessary to create as many segments as you require.
Delete any segments you don't want by clicking on them to select it and then hitting the 'Delete' button.
Move segments around by dragging and dropping them in place.
When you are satisfied, click 'Export' to save your video.
As you can see by the time you're done you should have been able to create your very own final cut with Movavi Video Editor. By taking advantage of its other features, you will also be able to do much more – such as enhance the video quality, apply special effects and filters, add audio tracks, insert customizable text, place stylish transitions between scenes, and much more.
All these features will enable you to edit your video just as if you were running a professional movie studio. Granted it may not quite be on that scale, but suffice to say Movavi Video Editor will let you create videos that are truly top notch and have a professional look to them.
Because of how easy it is to use Movavi Video Editor, you can accomplish all of this without requiring any special skills or technical know-how. The only thing that you do need to get it all done is a willingness to experiment with the features that are available to you, try them out, and see what they can do. Once you do that, you'll quickly find that you're in the driver's seat and can apply them to your videos without any hassle whatsoever.