There are lots of things to love about the winter season—cold nights, cuddling, family get-togethers, holiday parties, the chance to wear your favorite trench coat again and many more. But more than these simple perks, what makes us fall in love with winter are the holiday treats, Christmas drinks and sugary desserts that are hard to resist!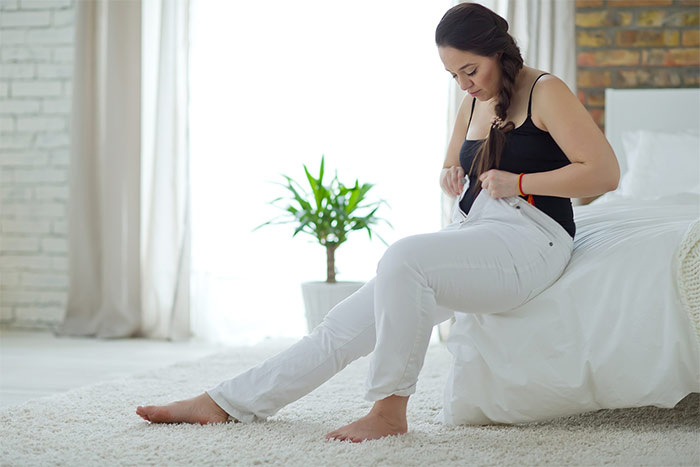 Truly, our taste buds and tummies are at their happiest during the cold months! But you cannot also deny the fact that we are at our heaviest and sometimes, fattest come winter.
Causes Of Weight Gain In Winter
Why is this so? Why do we gain weight in winter? Well, here are some of the common causes of weight gain in winter that you should know about.
1. The Cold Weather Can Get Depressing
The lack of sunlight and the cold weather can negatively affect your health and mood. Have you ever heard of the condition, SAD—Seasonal Affective Disorder? It is a condition wherein you feel depressed and anxious during winter. And most people suffering from this try to cope up with eating, drinking and sleeping in.
2. We Tend To Sleep In During The Winter Season
Well, the cold weather is not called the bed weather for nothing, right? When the weather is freezing cold, we would rather sleep in than perform our daily activities like exercising and many more. The lack of sunlight may also have an effect on the hormones that regulate sleep, making us feel groggy all the time. This sedentary lifestyle can lead to the unwanted winter gain.
3. Holiday Meals And Drinks Are Irresistible
Who can say no to holiday meals, drinks, and treats? The sad part is the drinks and treats are heavily laden with sugar while the meals contain all the fats and calories in the world. Now, we are wondering why we got fat over the winter?
4. The Cold Season May Put a Hamper On Your Usual Physical Activities
Would you be excited to do your usual walk or exercise if it is freezing cold outside? We highly doubt it! Because of the cold season, many of us find it difficult to stick to our daily exercise routine. Combine the lack of exercise and overeating, and you get winter gain.
5. Our Metabolism Increases
Many people see the increase in metabolism during the winter as an advantage. After all, the faster our metabolism, the fitter we will be, right? Well, there is one downside to an increase in metabolism. The faster our metabolism is, the faster it is for us to feel hungry and we end up eating more than the usual, hence, the dreaded weight gain.
Tips To Avoid Winter Gain
While it may seem like it is inevitable for us to keep winter gain at bay, you will be happy to know that there are plenty of ways on how you can avoid the dreaded winter gain. Here are some of the things that you can do.
1. Practice Mindful Eating
Mindful eating or eating without distractions is the best way to avoid overeating. During meal times, you should turn off the TV, radio or any other distractions and just simply focus on your meal.
2. Sip On Green Teas
Green teas contain high amounts of caffeine (which can jumpstart your metabolism) and catechins (which has thermogenic properties and encourages fat oxidation.
3. Get Moving
If it is too cold out, you can find lots of indoor workout alternatives. You can try hitting the gym, enrolling in a cycle class or doing yoga. All these can help prevent you from gaining weight.
4. Go To Parties With Your Tummy Full
It can be quite difficult to resist the holiday food if you have an empty stomach, right? Try to eat a veggie dish or any fruits before heading to a party so you can avoid consuming too much calories.
5. Shy Away From Alcohol
If you can't totally avoid alcohol, try to drink a glass of water in between glasses of alcoholic beverage so you can limit your consumption.
6. Give Priority To Protein
Carbohydrate-rich foods fuel your hunger and may cause you to eat more. So instead of giving plenty of space to carbs in your plate, reserve it for a more important nutrient—proteins! Protein rich foods will fill you up and make you feel full for long.
7. Get Some Sunlight
No matter how difficult it can be, try to force yourself to walk and spend some time outdoors. The little amount of sunshine that you can experience during winter can help keep depression at bay.
Weight gain is common during the winter season, but that doesn't mean that you cannot protect yourself from it. Put the tips mentioned above into practice so you can stay healthy, fit and slim over the winter.