If you're ready to replace your old air conditioning system you need to know that there are two different types today—ductless air conditioning and central air. If you live in a city where it can get extremely hot for several months of the year, your energy costs are going to be your number one concern.
Let's compare these two different types of a/c to see which is right for you and your family.
Differences Between Ductless & Central Air Conditioners
Central air conditioning is one of the most common types in the USA, but the ductless systems are becoming more popular. Ductless is also called a mini-split system.
Both types have an indoor compressor or condenser, and an indoor unit. The differences in the ductless systems are that they can include more than one indoor unit, and they have a smaller conduit that connects the units together, instead of the ductwork.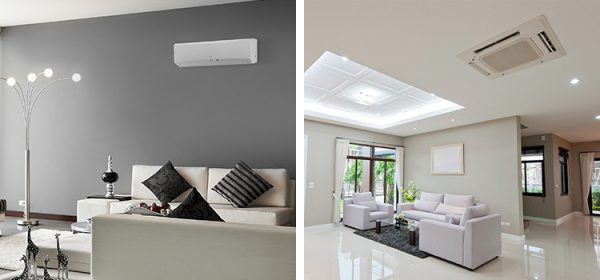 Differences in Costs
If you're comparing both systems of the same capacity, it depends on whether your ductwork is already in place. If you were to install an entirely new central air conditioning, including the ductwork, the costs would be substantially higher. But if your ductwork were already in place and all you needed to replace was the central air conditioning unit, it would be cheaper than the ductless air conditioning system.
Ductless systems may be the best choice for newly built houses, or for ones that currently have no ductwork in place. But if you have an old duct system, you can also replace it for ductless. However, there may be additional costs, because your old ducts need to either be removed, or covered, with all registers sealed, so that pests and small animals can't get in, nor any dust or contaminants that will lower the air quality.
Installation Considerations
It can take a good week's worth of time for your contractor to install your new central air conditioning system. If there is no ductwork already in place, it can take considerably longer. The installers will need to tear out parts of your walls and ceilings to place the ductwork. Then they'll need to make repairs and fix the damaged areas to restore them to new. Some homes also need custom-made ducts, and space in closets, attics, and basements may need to be used.
When installing a ductless system, most of the system is built in the factory. The contractors will install the indoor units in your rooms, then drill a hole in the wall for the conduit. The conduit is used to run the suction tubing, refrigerant line, power cable, and condensate drain from indoors to outdoors. Installation is much faster and will involve lesser costs for labor. It's also a lot less intrusive for your family.
Lower Utility Bills
Utility bills will also be much lower for a ductless system. If you're considering ductless air conditioning over central air, discuss it with your air conditioning contractors. You'll discover that new air conditioning technology is much more effective at cooling your house today.
This article is courtesy of Howard Air, providers of cooling systems and repair in the Phoenix area for more than 40 years. When you need an HVAC contractor you can trust, call Howard Air. Our reviews prove it!