Honda Motorcycle and Scooter India (HMSI) introduced an awesome bike in 2016 April called Navi. This bike is built and designed to cater to the requirements and desires of the Indian population. Navi is a popular bike in India and from analyzing the huge demand HMSI aims to increase the production outcome by two fold and the company's vision is to produce one lakh units.
The overall exterior architecture of Navi is fantastic, it looks sporty and colorful to the core, Grom is another great bike engineered by HMSI, but it is sold in international markets only. The segments in which Grom is popular is United States, Europe and Southeast Asia. Which is a better bike to buy Honda Navi or Grom (available in overseas segments)? Let us compare the two bikes and come to a conclusion.
Design:
Honda Navi has an impressive design with minimal body work and it is not par-excellence. This is a comfortable bike to ride in, the seat has a wide dimension and two occupants can sit comfortably. The design architecture of Grom is known to be similar to Navi, one feature where are two bikes differ to a vast degree is the engine.
Engine:
Navi has the same engine features as Honda Activa. This bike is engineered with a 109cc one-cylinder engine and it has an air-cooler. This powerful mill generates 8.9Nm and 7.8bhp and is connected to CVT gearbox.
Honda Grom is built with a potent one-cylinder 124.9cc fuel-injected air cooled mill and this highly efficient power-train yields 10.9Nm torque and 9.8bhp power. The engine is coupled with four-speed manual gearbox.
Features:
Navi does not have storage area and there isn't even a storage compartment offered as an additional accessory. There is also no digital display and instrument cluster with trip meter, but where safety is concerned this bike is reliable. It has drum brakes, single shock and the back and telescopic front forks. An important point to remember is there is smaller storage compartment under the seat.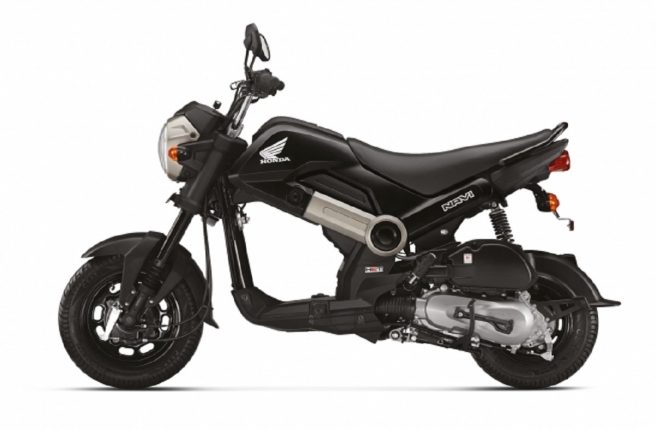 Grom is packed with necessary features to enjoy a safe and comfortable ride, it has a digital speedometer console, both the 12-inch wheels have disc brakes, inverted front forks and powerful rear monoshock.
Chassis:
The Navi and Grom bikes have vastly different chassis, Navi has an underbone type design and robust suspension. There are inverted forks in front and there is a sturdy spring-loaded hydraulic unit connected to engine. The overall weight of Navi is 101kg.
Grom is built with a potent steel mono-backbone frame and it is different from the underbone chassis incorporated in Navi. This bike has a single tube spine chassis with monoshock and box section swing-arm at the rear and 31mm inverted forks in front. Grom weighs 101.7kg.
Wheels:
Navi is built with ten-inch rear wheel and twelve-inch front wheel, on the front is 90/100-10 tire and tire on the rear is a 90/90-12 make. This bike does not have disc brakes and on both ends of the rear is 130mm drum brakes.
Grom is constructed with 12-inch solid tires on the rear and front. The front wheel is a 120/70-12 make and the rear tire is 130/70-12. The front 220mm disc is connected to two-piston caliper and 190mm rear disc is linked to single-piston caliper.
Ride Quality:
The ride quality of Navi is not very smooth and sources say it offers a typical scooter ride experience. This bike does not offer an exciting fast ride encounter and it is hindered by hydraulic rear forks and short travel front forks. The suspension is not very effectual to land on rough roads.
The ride quality of Grom is better than Navi and the suspension is strong enough to glide smoothly on wet lanes. The efficient and safe riding is contributed by the presence of robust brakes and suspension, exhaust and ECU.
Verdict:
Honda Navi is a bike that is in huge demand and it has an admirable design, but nothing too extraordinary. The design architecture of Grom is similar to Navi, however across many departments Grom is a better bike, it has a more powerful engine, better suspension system, greater comfort features, a more powerful chassis and ride quality.
From the comparative analysis it is evident that Grom is a better bike to buy, this is an amazing bike to spend a relaxed weekend riding all over the city. The safety and suspension equipment of this bike is incredibly strong and it is therefore awesome to have fun riding long distances. An important point to remember is Grom is not sold in India, hence for people in the country there is the Navi to purchase.
The main concern with Navi is the insufficient storage compartments to ride comfortably, but it has a strong suspension to ride effectively amidst Indian traffic conditions. This bike is offered for a price of Rs 42200. At present Grom is not sold in India and if it arrives into the country it will be offered at a higher cost.
After comparing the two bikes it is certain that Grom is a better choice, but Navi is on offer in India and the demand for it is strong. For people who are keen on buying Navi, it has an admirable design, comfortable seating evident from the presence of wide seats, it has an admirably powerful engine, sturdy chassis, smooth ride quality and efficient suspension system.
The festive season is on and for bike enthusiasts there is no better gift than Hero Navi, and this is just perfect to enjoy life-remembering group rides. This is a bike catered for ideal city roads and it might not be too effectual on rough road terrains or slopes, mainly because it offers a more scooter kind of ride quality. So enjoy top-class adventure in your highly desired Navi bike.
Grom is an amazing bike to purchase as well and it is sold in international markets, this bike has all round powerful features and it is perfect to enjoy a lengthy ride on any type of road condition.