The joy of raising a baby comes with the responsibility of making choices at every step which will influence your child's health, well- being and growth. One of the most important of the many choices you make is the decision about whether you should choose homemade baby food, or depend on store bought products. While your decision to choose one or the other will depend on your particular situation, here are a few points you may want to keep in mind when taking a call.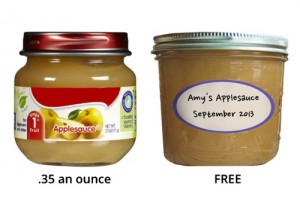 Nutrition
Store bought food uses preservatives, even if it is in small quantities, to ensure that it stays unspoilt during its shelf life. While homemade food may not necessarily have more nutritional value than store bought food, it is free of preservatives and other additives.
Ingredients
While we may be sure that companies which manufacture baby food have quality checks in place to ensure that the food that reaches your baby's table is safe for consumption some mothers prefer the assurance of knowing exactly what has gone into their baby's meal. The assurance of cleanliness, freshness and quality that you have with homemade food cannot be matched with a store bought substitute.
Recipes Your Baby Likes
Store bought baby food comes in a limited number of options, and there is no way to alter or enhance the flavour. On the other hand, when cooking at home, you have the option of playing with flavours and ingredients to find food and flavours your baby prefers, eventually preparing him to graduate to whole foods and complete meals. Children who are raised on homemade baby food, find it easier to transition to regular meals. But it isn't always easy to go out to the Pharmacy to buy medicines and food for the baby, Buying food and Medicines online makes it so much convenient for the parents.
Colours and Textures
Blend a bright red carrot for lunch, or puree an appetizing yellow mango for dessert, appealing to your child's visual and olfactory senses to tempt him to eat. Store bought food, though pleasant smelling and tasty, is not as visually appealing as home-made food, and may appear insipid to some babies.
Cost-effective
Opting for store bought baby food is also the costlier option! In a young family where the mother takes a hiatus from work to raise her baby, the burden of providing for the family falls on a single person. Having a baby in the house invariably adds to costs, and one must always be ready for unexpected expenses. Choosing to make baby food gives you the extra advantage of saving.
Things to keep in Mind
Cooking for your baby is a rewarding experience, and prepare yourself for hassle free mealtimes and a healthy baby by keeping in mind a few important points
Avoid foods which may cause allergies: Honey, fish, nuts and eggs are best avoided when you are cooking for an infant, as they may cause allergies, It is a good idea to see your doctor and conduct tests to identify any allergies.

Cook your meats and vegetables well: Uncooked, or partly cooked food is not only harder to digest, but can also put your child's health at risk as it may carry germs. Make sure food is properly cleaned before cooking and is well done!

Invest in a blender: Babies start off by eating purees and gradually move to eating larger bites. Having a blender will enable you to get the right consistency.

Cook in small quantities: While it may be tempting to make a large batch of baby food, it can get boring for the baby to eat it. Also, home-made food is at greater risk of spoiling.
Get Rid of Guilt
Every family is different and has particular needs. Store- bought baby food is the perfect solution for a working mother, or a family which is always on the go, while a full- time mom is bound to have more time at hand for cooking for her child. Store-bought food and homemade food are equally good as long as you make sure that your child is receiving a diet complete in cereals, vegetables, fruits, and meats. Online pharmacies make is easy for you to sample store bought baby food easily, making it readily available in the health and fitness products online section, and you can easily pick them up when you buy medicines online.
Visit Zigy, the fastest growing online medical store to choose from a range of baby food, giving your child a mix of home- made and store bought food to taste!