Are you planning to remodel your kid's bedroom or your study? Have you decided to renovate your washroom by fitting modern accessories or redecorate your living area with some really cool furniture? Go ahead with your idea while we share with you some up-to-the-mark, fashionable yet durable variety- Acrylic; the state of the art and talk of the town furniture option.
Designing your home and refurbishing it to give an appealing as well as pleasing guise is a usual desire. People who have shifted to a new apartment or renovated their old house always look for new and creative decoration forms which are cost effective, sober, and spacious and certainly worth the effort. While you plan for such household adornment, remember to use aesthetically attractive furniture as the same adds and enhances the beauty elements of the room.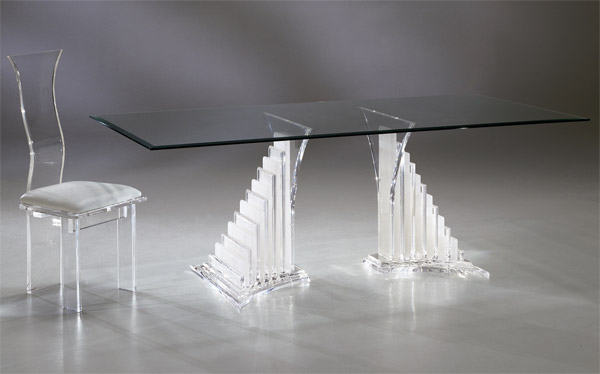 One such trendy, up-to-date and most preferred form is acrylic furniture- a new style that embeds classic cool look with a dash of ultra-modernism.
Acrylic is a kind of fabric, plastic fiber or paint made from acrylic acid and closely takes after glass. Due to the superb transparency and sturdiness, it is also known as acrylic glass and used in many domestic and commercial work in place of original glass. Acrylic has growing applications these days starting from skylight, aircraft windshield, automobile, aquarium, medical instruments to optical appliances. The popularity and usability has also pushed acrylic in domestic usages from furniture, and other home decors like photo frames, lamps and light fixtures.
Opting for acrylic as the most optimum furniture option is backed by many advantages of the material. Acrylic is light, easily mouldable and can be shaped to any size thus resulting into a wide range of acrylic furniture from coffee tables, book cases, dining table, consoles, side tables, bar stools, sofa sets, and pedestals to dining chairs.
Even your shower cabins can be made of acrylic; just think how cool it will be. The range of acrylic furniture are decent looking, soberly colorful, light and easily movable. The designs are artistic yet unique, temperate yet bright and glamorous yet matte. The houses decorated with acrylic furniture look modish and decent and the same is the most favored option for less spacious rooms as the furniture category give optical illusion of occupying little or no space.
Shaping acrylic furniture is easy and hassle-free and it can be remodeled to any shape of the heart's desire. If you want a squarish coffee table, an elliptical dining table or roundish book shelf, acrylic is the word.
Though, acrylic furniture is the need of the hour, it has also developed trivial negative word of mouth-some say they are expensive than traditional counterparts, some say they turn out to yellowish in long run.
But the huge list of pluses has made it an extremely popular and most-desired option. Along with the light weight and easily mouldable attribute, acrylic furniture are easy to be re-arranged, weatherproof, hassle-free maintenance and can resist strong impact! So stop worrying when your children starts practicing tennis in your living room- be rest assured, your furniture are well-protected.
To Know More Please Visit: Shahrooz-art.com