Google announced plans to begin construction of a $600 million data center in 2016. That news would be big regardless; however, the location of the Google data center in Alabama has resulted in much discussion. Local leaders in Stevenson, Jackson, County, the proposed site, look forward to the possible economic benefit of part of the Silicon Valley corporation heading to the South. They see this move as the change needed for them to become a hub for industry in coming years.
This rural part of Alabama has seen better times, and hopes are that Google will be the economic engine to spur growth, especially the reopening of closed industrial plants.
Stevenson, Alabama
Stevenson, which has a population of around 2,000, residents, could see up to 100 new jobs opening at the center. These positions will undoubtedly be high-paying ones, requiring knowledge of sophisticated computer technology. Alabama workers, both local and others, will compete for this respected employment, helping keep the town's most talented at home, and bringing the best from other cities. Jackson, the northernmost county in the state, borders both Tennessee and Georgia. Included in the metropolitan area is Chattanooga, a mere 44 miles from Stevenson.
This location, a small town environment, in close proximity to a larger metropolis, should prove a wise choice for Google. The town will undoubtedly roll out the red carpet to ensure success; meanwhile, high-quality technology workers will have no qualms about relocating to Stevenson. They will enjoy the best of both worlds, in a quiet Northern Alabama town and access to major shopping, higher education and commerce in Chattanooga.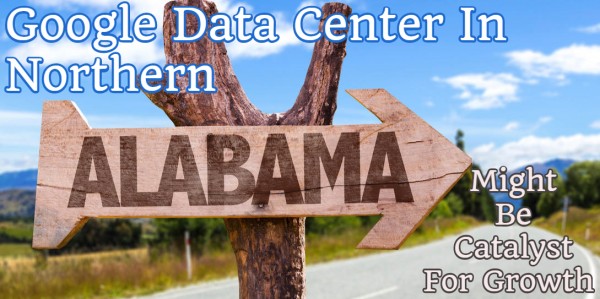 The Possibility of Growth in the Region
The hope that the Google data center will lead to progress in northern Alabama is not without reason. The technology giant is a reported $100 billion economic catalyst that has increased prospects in other states. Most prominently, California ($25 billion) and New York ($18 billion) receive a great deal of revenue from the company. Even those not directly working for Google benefit. The highly-paid, educated workforce needs goods and services that local businesses can provide.
Consequently, the belief is that over time, the region around Stevenson may become well-off enough to reopen closed coal plants where many residents once made their careers. The area now has about a 7 percent unemployment rate.
This area has been the recipient of much hope in the past. Part of the Tennessee Valley Authority (TVA) region, Jackson County has wanted to improve its economic standing for generations. To locals, the data center could be just the ticket to a turnaround. Politicians spoke openly of renewed desires to change fortunes for the people, after learning of the Google decision.
Pride in Bringing the Google Data Center to Alabama
Regardless of whether Stevenson and Northern Alabama enjoy a financial windfall from the new technology center, locals should feel proud of being chosen as the site. Google has only fourteen such facilities around the globe. These important centers provide the backup to keep Google's search engines, online marketplaces and other functions running smoothly for worldwide users.
Katrina is a computer savvy tech specializing in designing and manufacturing custom server racks with Rack Solutions.