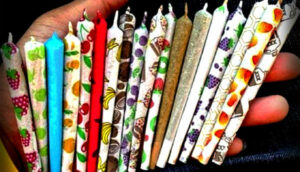 In the past, consumers rolled their own joints but as recreational shops and medical dispensaries emerged the demand for off-the-rack smokeables grew. Today, you find pre-roll almost everywhere, which are common recommendation for new cannabis users or even serve as go-to gifts.
Joint is discreet, disposable, cheap, portable, and can be shared conveniently amongst friends. You don't need financial investment nor time commitment. However, to learn the technique to twist one up needs practice. So, pre-rolled joints were invented.
Pre-rolled joints can be termed as hot dogs of cannabis industry. Fortunately, there are still some pre-roll joints in Las Vegas that supply high quality product.
How to twist pre-rolled joints?
In dispensaries the bud-tenders shift small flower bits [called falloff or shake] in the jar every time. The strain gets broken into small bits, which is used in pre-rolls. Some producers break and grind nugs actually in grinders and load the mix into pre-rolled paper cones.
The joints are shaken with the help of machine, so that mixture gets settled properly and air pockets get removed. As soon as the joint gets filled, a worker tamps the content down gently but makes sure it is not very tight or very loose. This can cause poor burning. The tip is then twisted and pre-roll joints are ready for sale. Thus, each joint gets a manual touch.
Shake is actually misunderstood
Shake makes sure that each part of dispensary flower is used. Some think shake is a poor cannabis but they are wrong. Shake is the small pieces from same quality stuff. Times when shake is of low-quality –
If it is dry
If it contains bits of leaves and stems
Blend of shake from different strains
Therefore, before buying a dozen of pre-rolls, cut one open. It is worth the sacrifice to find if the inside looks like freshly grounded nug.
The recreational market in Washington has no shake at all because According to state laws, the producers pre-package nugs, so nothing gets collected at jar bottoms for medical dispensaries to twist their own pre-rolls. Anything which breaks from buds get sealed in the same bag.
How much do pre-rolls cost?
Price of pre-rolls vary on the basis of cannabis quality ranging from top-shelf nugs to shake [leftovers] and the quantity ranging from oversized 2gm to thin .5gm.
What are the different kinds of pre-rolls?
Besides different natural hemp and rolling paper options, the pre-rolls get filled with branded strains either Indica, sativa or hybrid kind. Some get infused with THC extracts or oils, which increases their potency and cost.
Why pre-roll joints got a bad reputation?
Some dishonest dispensaries and producers filled pre-rolls with leftover shake or mixed dry, tasteless marijuana excess from the trimmings. Due to this the users experienced stale smoke with harsh hits. What lies behind the paper is unknown, so make sure to buy your batch from licensed reputable dispensaries.  Make sure the pre-rolls are sealed in tubes and pouches. If you smell cannabis originating from the pouch then it is bad. The valuable terpenes are leaking out.