Like many people, if you've invested in a swim spa then you'll want to gain as much as you can from it. A swim spa can be a real bonus when you're trying to improve your fitness levels, but lets face it, swimming round and round can be extremely frustrating particularly for an adult. However, there are a few gadgets and accessories available that can turn that frustrating experience into an effective work out.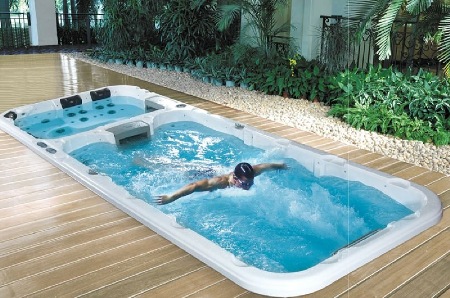 Take a look at a Swim Tether to transform your exercise and training programme. Quite simply it consists of a compact three piece fiber rod pole, a static swim cord, a neoprene covered nylon belt which can be used on waists up to 54 inches and a stainless steel deck plate. In fact some swim spas already come with the fitting already attached so all you need to do is slot the pole into place and it's ready to use. If not then it's a simple job for a spa tech to fit.
As there are no annoying straps around your ankles or feet, the Swim Tether is a pleasure to use  and makes a great addition to any swim spa for a fitness enthusiast. It allows you to perfect your stroke whilst building up stamina and is particularly beneficial to those training for an event. In fact your coach will love it as they can analyse your technique without having to follow you up and down a pool.
It's a great piece of equipment for those with children. Swimming lessons are not cheap and most children only attend perhaps once or twice a week. The Swim Tether allows them to practice without a trip to the nearest pool, cutting down on the amount of lessons they will need. They will also enjoy the novelty value of it too.