Many of us would rate the cuisine of a country as an essential consideration when planning a trip somewhere new. In fact, a survey last year conducted by the World Food Travel Association revealed that out of 170 million leisure travellers in the US, more than 30 percent picked their destination based purely on the possibility of culinary activities. Clearly food is an important part of the travelling experience!
In fact, epicurean travellers are fast becoming a key target group for tourism, with increasingly sophisticated cooking classes and culinary tours cropping up all the time. From large-scale cooking schools to entrepreneurial locals looking to share their home-cooking skills, the list of fascinating gastronomical activities on offer across the globe is growing exponentially.
For the dedicated Indian food aficionado, a trip to the mother country simply wouldn't be complete without signing up to explore some of the most famous foodie cities on a culinary tour. Many of India's iconic cities are gastronomical hotspots where delectable street food can be found at the roadside and local markets are bursting with colourful, fresh produce and aromatic spices. A culinary tour will take you on a journey through these key areas of a city as well as offering up the chance to taste regional specialities. Some might even teach you to cook them as part of the deal.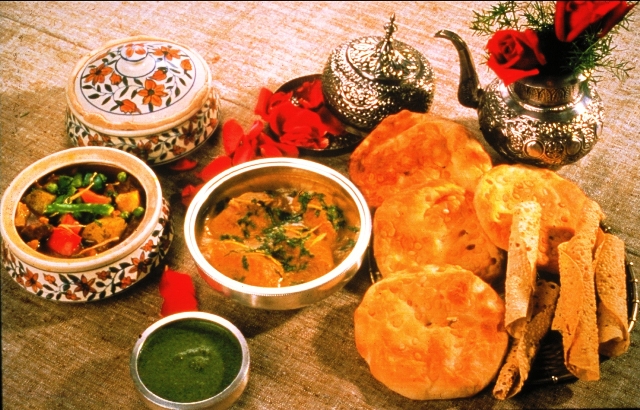 Popular Indian cities for culinary tours
Delhi
Renowned for its thriving street food scene, Delhi has to be one of the top destinations for those that love their Indian food. There are numerous walking tour companies, such as Delhi Food Walks, that can take you on customised trips into the culinary heart of the city. You might explore the labyrinthine alleyways of Chawri Bazaar and Chandni Chowk where you can pick up a paratha, packed fit to burst with mouth-watering fillings such as creamy paneer, spiced potato mash or crunchy nuts. Later, you might visit Kamla Nagar, the popular food court filled with all those Indian favourites from spiced lassis to creamy rasgullas; from plump, little momos to crunchy bhel puri – you'll find it all here.
Mumbai
Food Tours of Mumbai will take you on a journey through one of the most famous districts of the city – the Fort area. This historical district is chock-full of art and culture, all washed down with some of the best food and drink Mumbai has to offer. You will be given insider tips on the best places to eat out as well as a thorough introduction to the city's specialities – taking you far beyond the typical chicken tikka masala and vindaloo you might encounter at your local curry house. Expect to try classics like Keralan fish curry along with slightly more unusual offerings like a lassi made from the chickoo – they say it tastes like sweet, creamy banoffee pie.
Of course, if India seems a little far to go for a taste of authentic, delicious cuisine, book yourself a table at one of London's best Indian fine dining restaurants and enjoy all the exotic delights of the east from the comfort of your home country.