India is one of the most religious countries in the world that has diversified cultures and religions. Hindu religion in India is considered great religion among all other religions in India as it follows the numerous rituals for different purposes. Hindus perform different kinds of rituals (Puja) for the different benefits, be it a benefit of health or wealth. Every ritual has its own significance and has its own techniques. There is an oldest and most important mantra in the mythology of India dedicated to Lord Shiva, called as Mahamritunjay Mantra. It is believed that this mantra has been created by Rishi Markandeya. According to Hindu Religion, Mahamritunjay Jaap Puja is beneficial for enhancing physical and mental health of a human being.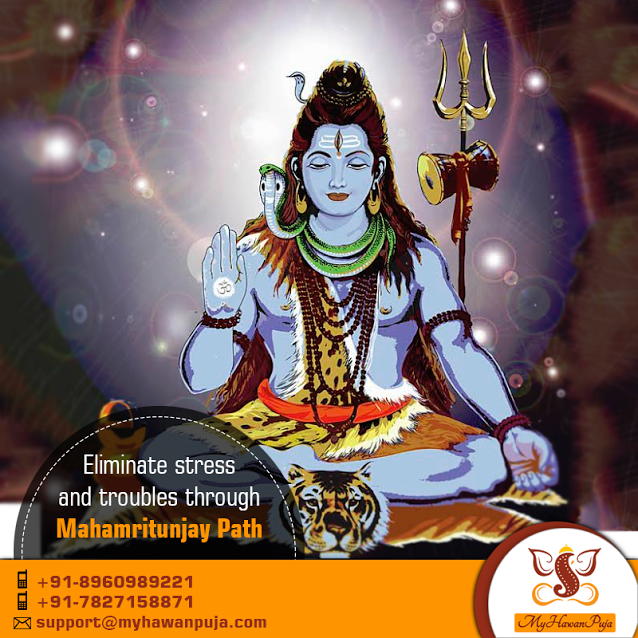 Origin of Mahamritunjay Jaap Puja:
The word "Mahamritunjay" has been formed from the combination of mainly three words, i.e. Maha that means significant, Mrityun that means death, and Jay means success. So, the word when combined means achieving the victory over death. This mantra is also referred to as Trayambakam Mantra or Rudra Mantra. Once upon a time, the moon was in dilemma because of the curse caused by King Daksha. So, this mantra produced by Rishi Markandeya was given by him to the daughter of King Daksha, Sati to protect the moon from trouble. Enchanting this mantra helps to build our concentration on the third eye that is beyond our two eyes and it provides us the power to sense that you are happy and satisfied with your life. Therefore, many people arrange Mahamritunjay Jaap Puja in their homes to bring peace and happiness in their home.
How is Mahamritunjay Jaap Puja beneficial for us?
If you are facing any kind of disease or health issues, this mantra can help you to cure your disease or health issues. This mantra is also considered as a life saving mantra, but one needs to recite this mantra with sincerity, devotion, and faith. If recited with utmost faith, this mantra can even delay the death of a person for some time and can also save a person from unfortunate death.
This mantra is also beneficial in improving the financial conditions or financial losses.
Since this mantra contains healing powers, so chanting this mantra generates divine vibrations that can be useful for removing the fears of a person related to death and frees the person from the cycle of death and birth.
This mantra is also helpful in solving your family disputes related to property division or something else.
If you find some kind of issues like Gochara, antardasha, maas, or dasha in your kundli, then chanting this mantra can help you to get rid of such problems.
If you really wish to bring peace and happiness in your life, then Mahamritunjay Puja benefits can help to bring positivity in your life. If you are not aware of Puja samagri required for this puja or you don't get time to visit Pandit for knowing details of Puja, contact My Hawan Puja for easing this Puja task.