Businesses cannot underestimate the power of Email marketing & direct mailing marketing; though both have their pros & cons. The best way to reach customers and get them to buy from you is the use of these marketing methods. These processes are generally called Customer relationship Management (CRM). The two marketing methods are a cost-effective & efficient way to get new customers, and can both be implemented by any business. Email marketing has an edge over direct mailing with the following reasons.
Email marketing can be very inexpensive compared to direct mailing
In email marketing, you can easily set up email lists of current & future customers without spending a dime, and you will eventually end up with a large list, and then engage an email service company to help you manage & send your emails. Many of these service companies offer free plans to manage up to a certain amount of addresses. Direct mail can become very expensive when you are not targeting the correct audience & can lead to waste of time & money. Printing costs a lot of money, and there are other costs like list rental & letter-shop to consider. Also, postage is skyrocketing.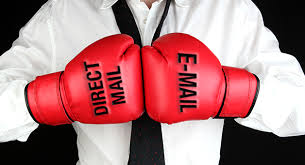 Email marketing is very fast
Email marketing is amazingly fast. Once you have designed & set up your email, you can send out a mass email in few minutes. In another few minutes, your recipients are opening your email message, and you will start to get hits on your website in a short time. In the Direct mailing, building a mail list, designing spectacular marketing materials to send out takes a lot of creative development, time, & resources.
Email marketing is very easy & convenient
Email marketing is very easy. All that is required is the provision of links to your products & services which makes the email very convenient for the recipient. The links show the recipients of your email sharp & quick understanding of what you are trying to tell, and sell to them. This is one of the reasons email marketing is fantastic. In the direct mailing, you need to have your marketing material to look exceptional so as to catch the reader's eyes, so they can get to read your message. If poorly designed direct mail marketing pieces arrive in a person's mailbox, much of it will get ignored for sure.
Conclusion
From the above-stated reasons, you can see that email marketing truly has an edge over direct mailing. In Email marketing, you can get instant answers to your marketing questions. Why do you think your product & services are the best in the market? Is your offer too good to be true? Use a CRM which has unique marketing automation capabilities. Customer relationship management with marketing automation capabilities will enhance marketing efforts to prospects, turning them into full-fledged customers. Email a group of prospects and get potential customers!