Metal bellows can be defined as the compressible elastic containers, which get compacted whenever pressure or vacuum is applied on them and return to their original profiles once it is removed.
Following is the list of different types of modern metal bellows:
Formed bellows – processes like deep drawing, hydroforming and cold forming are used for producing formed bellows, also known as sylphons or convoluted bellows.
Welded bellows – exclusively formed diaphragms are welded together at their joining point to manufacture welded bellows, which have lower initial expenses and give high quality performance.
Electroformed bellows – these bellows are created by plating, otherwise known as electroforming process, of metal deposits against mandrels. They are highly precise and sensitive as well as have modest expenses.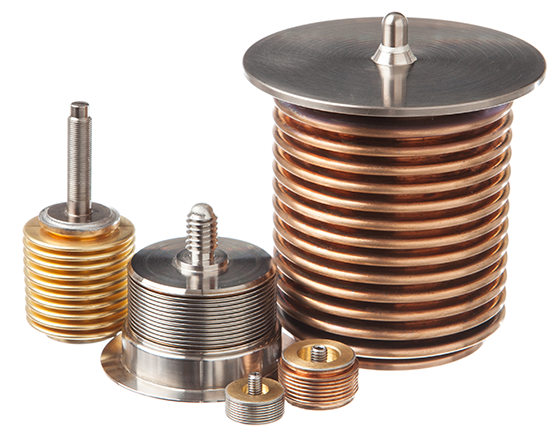 Manufacturing and Applications
Various types of alloys and metals like brass are used in manufacturing of bellows; be it formed, be it welded or be it electroforming. The selection of material depends upon the process used for bellows manufacturing. If you want excellent quality, high precision, latest technology and certified manufactured products, you should always opt for top metal bellows manufacturersas they are flexible, committed towards their clients, innovative and have skilled employees.
The applications of these metal bellows consist of load cells, vacuum interrupters, mechanical seals, pressure gauges, sensors, valve sealing, servomotors, exhaust bellows, stepper motors and expansion joints of pipes.
They also have applications in medical, commercial, aerospace, industrial, and space fields. One must also keep in mind that different types of expansion joints experience different kinds of deflections like cyclic, angular, lateral, axial, etc.
Electroformed Bellows
Products like flexible connectors, hermetic seals made of metals, sensors for pressure as well as temperature, volume compensators, etc. use these bellows as they offer longevity, durability, reliability and quality to the products. Electrodeposition is the technique used in this form of bellows manufacturing for providing protection, stability, mobility and accuracy.
The electroformed bellows are usually manufactured by the companies are close fitting, seamless, repeatable, lightweight and flexible. They are designed in such a way that it is easier to install them and to give excellent performance. Several types of materials are used in designing electroformed bellows depending upon the applications.
Advantages
Electroformed bellows have following advantages in manufacturing of different types of products:
They are capable of deflection to a large extent and have enhanced sensitivity.
Their performance is excellent as nickel and its alloys are generally used in their manufacturing.
They come in distinctive geometries and have exclusive features owing to the technology used to create them.
If we talk about ID/OD ratio, their displacement capacity of volume is much larger as compared to other kinds of bellows.
They last for a long period of time, about 100,000 cycles and unlimited life cycle is also possible with them.
They are safe from contamination as non-porosity and seamlessness are their features due to which no outside particles like dirt particles, moisture and dust can enter them.
They are reasonably priced and quite affordable.
Electroformed bellows are suitable for many applications. You just need to be aware of the nature of your product and if application of these bellows is required for them or not. Also, do not forget to verify the chosen company's certifications and the quality of the bellows they manufacture.