When space is limited and you wish to lend it an astonishing look, then, acrylic furniture will definitely serve your purpose. In such a situation, we usually watch out for colors and materials to make things better or at least easier to manage. However, acrylic furniture adds charm to the space with its graceful and stylish appeal.
Acrylic chairs are very beneficial and handy to be used for modern spaces. We appreciate its transparency and potential to look better in minimum space. But, this is not sufficient to describe their artistic nature. They have a very sharp touch with vintage design using modern material in their structure. With its almost sleek and cool look, this chair can fit in any space whether it is bedroom, kitchen, office or dining room. Irrespective of the space, this trending furniture piece has a tendency to add glam touch to it in a subtle manner.
So, Here are the 5 uses of acrylic furniture that will make you go WOW!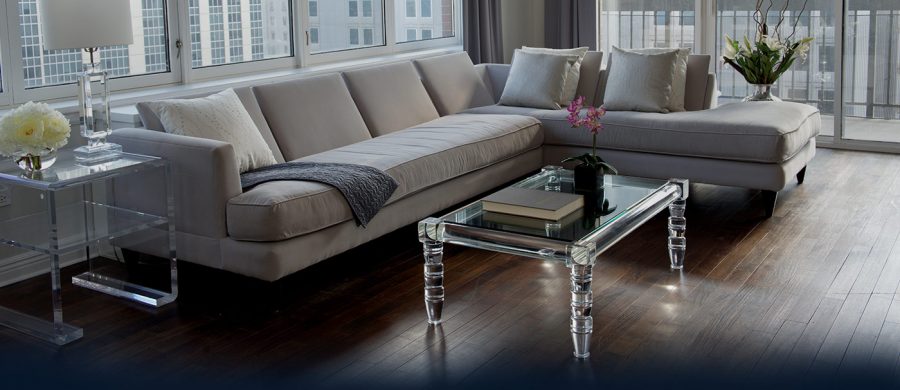 1. Cozy dining space with acrylic chairs
A situation of dilemma often arises when it comes to decide the ideal place of the house to be considered as the dining space. The only reason behind putting an emphasis on this thought is to avoid assigning wrong space to dining table. One wrong decision can make your entire place look crowded and too much congested. The acrylic dining table set does the job for you perfectly, in this case. The chair looks almost invisible and beautiful regardless of its positioning. At the same time, it provides your family, a cozy atmosphere while spending time together.
2. Coffee tables demand attention
Coffee table often demands a considerable space in house especially when it is placed in the centre of your home. Nevertheless, it would not be a problem,if it is placed at the corner or in a outer lobby. But, at times, it might look odd due to the space covered by it due to its utility of serving our morning or evening coffee routine. In this case, acrylic table proves to be very useful to make area look stylish & classy by covering minimal amount of space.
3. Modern acrylic chair with rough wooden legs and arms rest
This is a very innovative and unique chair to add to your drawing area. The main sitting part will be transparent similar to the structure of acrylic chair. But, the design has undergone a twist by the addition of wooden legs and arm rest for more rough and different look. It will work like a charm, if you use it in the garden area too.
4. Comfy fur seat stools
This is actually a cool idea to add some fluffiness and texture to your space without using the floor entirely. The upper part of stool will be covered with fur and cool texture with the clear acrylic base. This is best decor cum furniture piece to add in your bedroom or living area considering its optimal utilization.
Acrylic furnitures seem to be clearly a flourishing future of furniture industry. It offers you various unique options of these furniture pieces available in the market. All You need to do is explore and select the most appropriate acrylic furniture according to the architecture of your house.