As people get older, some things, even basic actions, can become more of a challenge. This can make living in your own home needlessly difficult. However, this doesn't mean you should allow it. Some simple kitchen remodeling can do wonders for elderly people. Here are four design tips that make your kitchen more comfortable for seniors aging in place.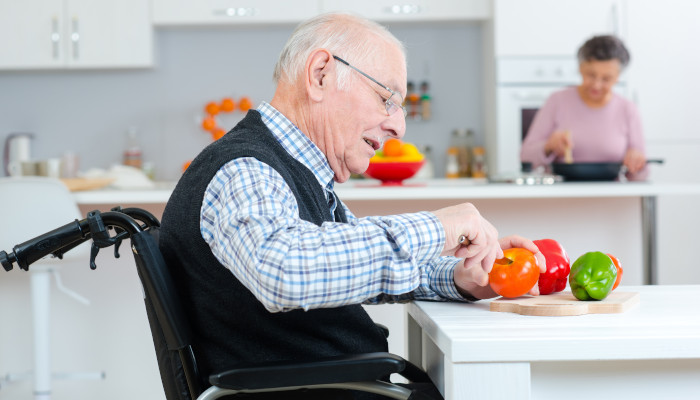 Add Pull-Out Pantries
Aging in place is the phrase used to identify elders who wish to live in their own homes with some form of independence. Pull-out pantries are a wonderful renovation to start off with as they eliminate the strain from having to reach out to overhead shelves. Because muscle atrophy and arthritis are common medical issues among the elderly, installing one or two pull-out pantries can give their muscles the rest they need.
Make Counter Space for the Microwave
One of the simplest kitchen renovations you can do is putting the microwave at counter height. The reason for this is practically the same as pull-out pantries. However, microwaves can pose an additional threat of burns. It's not uncommon for an older person's grip to weaken overtime, which can spell disaster with a hot plate or cup. Just bear in mind that microwaves can take up a lot of counter space, so you'll need to find the best place to put it. If you have the room for it, you may want to add an island to your kitchen so that you don't lose valuable counter workspace.
Group Appliances Together
Elderly people thrive off of simplicity and ease of access. So, one of the best ways to have that in your home is to group kitchen appliances together. For instance, you can put the stove right next to the sink and the refrigerator next to the stove. This is a more intensive type of kitchen remodeling because you may have to reroute some plumbing or electric lines.
Lower Prep Space
Aging in place also usually means preparing your own meals rather than having other people doing it for you. However, everyone is different and performs better in different scenarios. Older people who either cannot stand for long periods of time or who use a wheelchair need to have a lowered prep space. This will make cutting vegetables, rolling out dough, stirring batter, and other parts of meal prep much easier.
Getting older is a fact of life. However, there are plenty of ways to redo your kitchen and live independently for as long as possible. All it takes is a little planning.