If you need orthodontic treatment to straighten the teeth, consider clear braces. They offer the same result as metal brackets and wires of traditional braces, but you don't have to deal with as much of the pain or the look of having silver metal in the mouth. Almost any Brentwood dental office can work with patients who have a desire for straight teeth by using clear braces.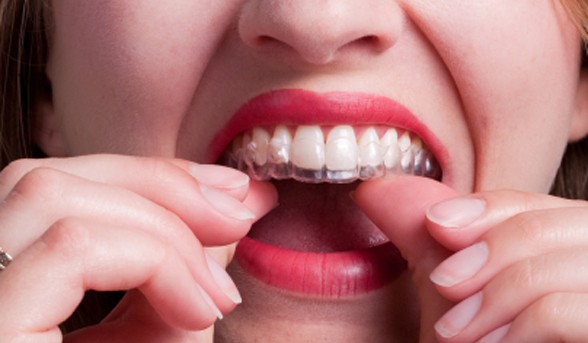 One of the main reasons as to why you might want to get clear braces over the traditional design is the appearance in the mouth. With clear braces, no one will see them in the mouth unless they are right in front of you, and even then, it's hard to see the aligners as they cover all of the teeth instead of one bracket being on each tooth. The clear braces make it look like you are wearing nothing at all while getting the teeth straight at the same time.
When you have metal braces, you usually have to get the ends of the wires clipped and the wire pulled, which is how the teeth are straightened. This can be painful for the first few days after the wires are clipped. The brackets can cut into the gums, and if you wear rubber bands, it can be difficult to open the mouth. Clear braces are less painful as there aren't any brackets that you have to deal with. You don't have to worry about getting any wires trimmed. The clear tray fits over the teeth. After a few weeks of wearing one tray, you go back to the dentist to get another one so that the teeth can straighten more over a period of weeks.
Metal brackets sometimes pose a safety issue for those who play sports as the brackets can get caught in the gums if you are hit in the face by someone else or by a piece of equipment. Clear braces can be removed for a short time while playing sports. They can also be removed while eating so that you don't get food stuck in the brackets, which is often what happens when you have traditional braces.