Bulgur is a cereal grain and it is a low fat content food. It is rich in proteins, and high in fiber and protein. One of the healthiest diet for diabetic patients and helps to control blood sugar levels. Fully Loaded with nutrients and one cup of bulgur contains less fat.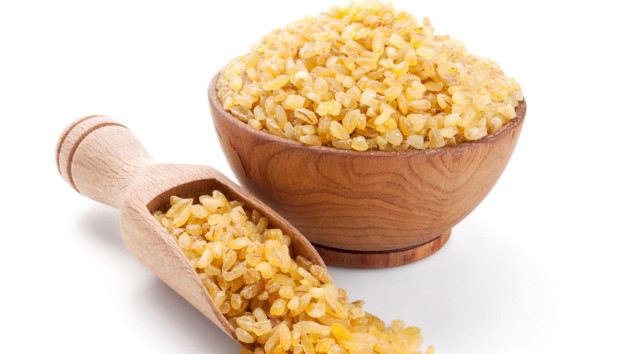 For Stronger Bones
It is very important for building strong bones. As we age, our bone naturally declines, so you need to follow the diet with phosphorous, manganese, iron and phosphorous that helps maintain healthy bones and one of the remedy for osteoporosis. Bulgur is rich in these minerals.
For Constipation
It is rich in fiber, bulgur help accelerate intestinal transit and fight constipation.
Lowers Cholesterol
Bulgur is recommended in diets to lower cholesterol because it helps eliminate unhealthy fats in the blood. And it can increase your good cholesterol levels. It is low in calories, bring energy to the body and accelerate intestinal transit, it is recommended in diets. The best diet idea is to combine it in salads.
Combats Anemia
It is rich in iron, bulgur is recommended for people suffering from anemia. All you have to do is include it more often in your menu and you will not have problems with iron deficiency.
Has Anti-inflammatory Effect
Several studies have shown that eating bulgur daily that helps decrease inflammation in the body and thus to combat certain cancers. If you have problems with high blood sugar, eat bulgur, it helps regulate blood glucose levels and combating diabetes.
It contains Vitamin B6 and Magnesium
Vitamin B6 or pirodixina is very important in the growth process, so bulgur is recommended in children's diets. This vitamin is important for fighting heart disease, skin and eye health. Bulgur is very rich in Pantothenic acid, that can boost the immune system.
A sufficient amount of magnesium daily helps to combat tiredness and have a good physical condition. 100 grams of bulgur contain 41% of the RDA of magnesium. Which help to maintain a healthy metabolism
It is Rich in Proteins
Vegetarians should eat bulgur often because it is a good source of protein in 100 grams of bulgur found 12 grams of protein.
Rich in Fiber Content
It contains soluble and insoluble fibers, especially Insoluble fiber prevents the constipation and diarrhea problems. Diet with fiber content can reduce the risk of heart attacks, diabetes, and strokes.