Food is an important part of any celebratory event such as a wedding. Food has been part of such occasions since the birth of human civilization. Good food, therefore, makes your event even better. The best cuisine should be soulful, have great flavor, and ideal for everyone attending the event. Here are a few ideas you can incorporate into your wedding.
Fruit Sushi
This is an ideal dish to have for an outdoor wedding. The fruits are nourishing especially on those hot summer afternoons. It is also a dish that is likely to be appreciated by all your guests including the health conscious ones. You can use different types of fruits such as pineapple, strawberries, mango, raspberries to provide a wide range of fruit sushi for your guests to choose from.
Lobster Corn Dogs
This is a summer station that is going to be a hit with the guests especially those who like seafood. With the addition of spices and herbs, this food adds a lot of flavor to the cuisine served at your wedding.
French Fries
You can offer a wide variety of French fries. Set up a station where the guests can pick different variations of this food. The station could include waffles as well as fries made from sweet potatoes. This type of station in uncomplicated and fairly easy to prepare. It is also the type of food that can be enjoyed by people of all ages.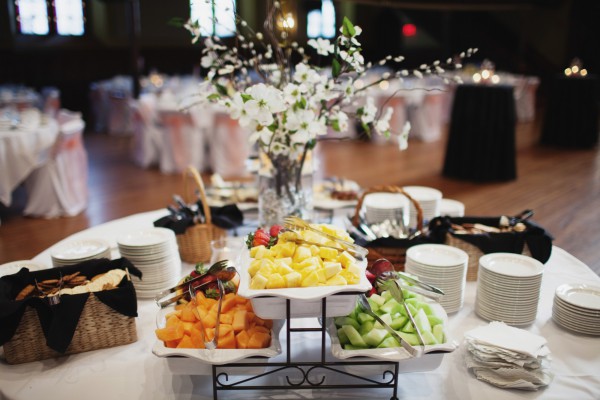 Chicken and Waffles
Chicken and waffles is another interesting dish you can serve on your wedding. The food is salty but also crunchy and delicious. It can be served in a variety of ways to add a touch of variety. You could serve it with some sauce, or a syrup. The syrups can add a sweet flavor to this dish and it will be a hit with your guests.
Mini Cheeseburgers
Both adults and children will love cheeseburgers if you serve them at your wedding. You could choose any type of cheeseburgers according to your tastes or according to what you think the guests will like. This could be veggie cheeseburgers or black bean ones. They can be served at station and all the sauces and condiments should be available at the station.
Grilled Cheese and Tomato Soup
Classic grilled cheese and tomato Soup can be served in many different ways. So you are bound to find a recipe that fits your taste and that of your guests. You could have a variation of these foods so that your guests can pick whichever they like. At a wedding, it is best to serve the grilled cheese in thin slices and tall glasses so that guests can dip the bread in the soup if they want to.
Homemade Biscuits
Biscuits have a very homely feel, but are very delicious. They are relatively easy to prepare and can be served in baskets, bowls and any beautiful containers. You can add some honey or include some butter for guests who prefer these type of spreads.
Pies
Some people opt to have pies instead of cakes on their wedding day. Pies can be great if you add some variety. You can have different pies with varying flavors prepared and presented accordingly. This will allow guests to choose the type they feel tickles their fancy.
Pizza
Pizza is another option that you have and can present for your guests. Most people see it as a snack at it is great when served in between breaks. It can also be ideal for when there is a party that goes on until late at night. A few slices for your guests will definitely keep their spirits up.
Ryan Davis is the owner of Argyle Catering the best company for catering Jefferson City, MO has to offer.