Coriander is world famous vegetable widely available for many people in different countries. The coriander leaves are used in different ways, which is one of best healthy green leafy vegetable. The coriander not only brings a vast and good taste to the dish, but also helps us in different kinds of health problems. The coriander leaves are naturally helping us to improve the digestive mechanism and reduces the chances of getting dangerous diseases of related to different parts of the human body. The coriander supplies richest vitamins and required minerals and proteins to us. It's one of the best sources of iron and fibers.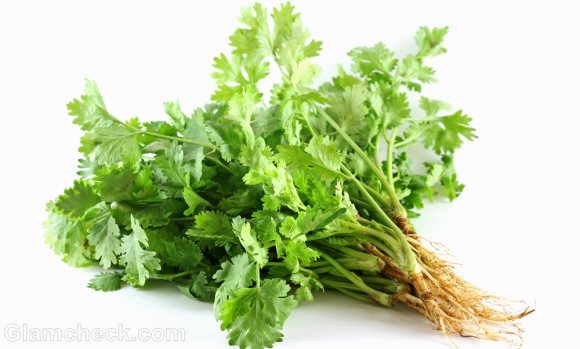 Used in Dishes
In many regions of Asian countries and other places coriander used widely in every dish they make at home or at any function parties. The coriander itself combines the flavors in the dish and gives a verity touch from its side. In some areas you will see no dish without a coriander leaves. The coriander is used in curries, soups, special rice preparations are added at the finishing times of the dishes which give a fantastic smell and flavor to that dish. You can smell the beautiful smell that created by the coriander when you add to the dish. It is widely used hotels and restaurants to garnish the dishes as the decorative which will give a fantastic appearance to dish.
Health Benefits
A fresh coriander leaves are used in every dish, which are very healthy for us. A fresh, green coriander will helps us in improving our health conditions. The coriander leaves helps us in improving the digestion process, it has greater anti-oxidant properties which will strengthen the lever functioning mechanisms. The coriander soup will encourage the production of digestive enzymes and juices which will further help the digestion process to go on smooth. The people who suffer with indigestion, consuming the boiled coriander water with a little pinch of salt will definitely benefit.
The coriander is also one of the best sources for the Vitamin C and it also supplies Vitamin A. The vitamin C which will help the improvement of the immune system. It supplies 25%-30% of the daily needs of the Vitamin C and it also acts as greatest antioxidants which will help us in reducing the free radicals from the body. The diabetes patients are suggested by doctors to consume the coriander on a regular basis. It helps to maintain the blood levels in good condition by producing the required insulin. It improves the anti-bacterial properties which will fight with bacteria. The skin condition is also improved by consuming the coriander on a regular basis in our dishes and soups.