Split air conditioning is becoming very popular these days. As their name say, Split air conditioning systems are split into two different units. One unit is installed inside the building whereas the other one stays outside.
The unit that stays outside is the compressor. Many models use a single compressor because of which they are known as ductless air conditioning units.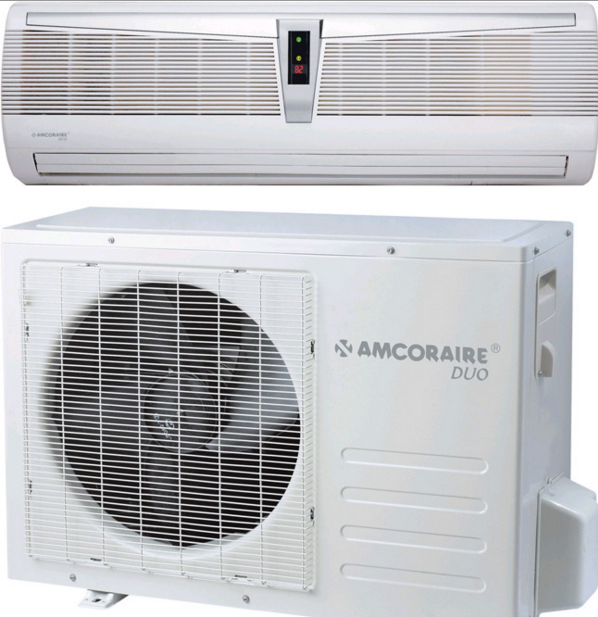 If you are looking for an easy and energy efficient way to cool your apartment, split air conditioners will suit you the best. There are a lot of benefits of split air conditioners, some of them are:
Can be used in any climate:

Most of the split air conditioners have an inbuilt climate control feature. This means in summer it will give you a cooling effect whereas in winter you can use it for heating the room as well.
User-friendly:

Most of the air conditioners come with a remote control, and a thermostat that is mounted on the wall. So if you feel like controlling the temperature, you don't have to reach to your AC all the time.
Easy to install:

It does not involve the installation of ducts and therefore, the units can be placed easily. It just requires a small hole to be drilled in the wall for the wiring and copper tubing. Since, the two sections are to be placed differently the indoor section is mounted by making space in the wall whereas the outdoor section is kept on the roof or any balcony. But it is important to ensure that both the units are installed at a distance of 100 feets.
Easy to maintain:

The split air conditioners come with an additional feature of washable filters. You can clean these filters on your own on a routine basis.
Quiet:

The noisiest part of an AC is the compressor, which is placed outside the room where an AC is mounted. Due to this feature Split air conditioners are very quiet and do not make much noise.
Compact Design:

Unlike the conventional air conditioners that are big and occupy a lot of space split AC's  are compact in design. You do not have to block your window to place a split AC. It also blends completely with the interiors of your house.
Health benefits:

 A moderate temperature avoids the insects and parasites to enter a house. A controlled temperature does not provide favorable conditions for their survival. It also helps in controlling the amount of sweat you release from the body. This reduces the chances of getting dehydrated. It also helps in removing external allergens like pollens.
Releases Stress:

Repetitive stress is not good for health. It damages your immune system as well as the resistance, which makes you more prone towards catching an infection. A  reliable air conditioning can help you from releasing your stress.
Every advancement in the technology has some risks associated with it even. Where same AC can help your body get a comfortable atmosphere to relax, it can even harm your body. Air conditioners give a drying effect on your skin. People are very prone to respiratory diseases. It can cause chronic infections like throat illness and hoarseness.People who wear contact lenses on a regular basis are more prone to eye infections when sitting for a long time in  the AC.
Remember to maintain an average humidity of 60 to 70% and temperature between 21 to 25 degrees. Consult an HVAC professional before installing an AC in your house as he will give you an idea of which system will best suit your needs.
 HVAC Contractors Florida : Energy Efficient Air Conditioners Hialeah