If you are selling your home, you've probably invested some time and effort into making it more appealing to potential buyers. Chances are, you've painted, decluttered, strategically arranged a few outdoor planters, and generally spruced up your home. You may even have replaced or refinished your front entry door in order to make your home more inviting.
However, you may have overlooked an important part of your home's view from the street. Many homeowners are surprised to learn that a new garage door can help their home sell more quickly and for a higher price.
Curb Appeal
Curb appeal is the phrase real estate agents use to describe the view potential buyers have of your home as they approach it from the street. Although you may pay little attention to it, potential buyers base their first, and often their last, impression on your home's front elevation. With this fact in mind, sellers typically focus on improving the appearance of shutters, porches, walkways, and entry doors.
Garage Doors
Few people regularly enter their homes through the front door, and those who do are usually focused on getting inside and away from the elements. As a result, owners often suffer from a kind of tunnel vision when they look at the front of their home. This makes it easy to forget that a front-facing garage door is a critical aspect of a home's curb appeal.
That's because a buyer has nothing but the appearance of your home's front exterior on his or her mind during the approach to your front door. Your garage door is a huge part of that critical first view. It is also a very large one. In fact, aside from your home's siding, your garage door may be the largest feature of your home's front exterior.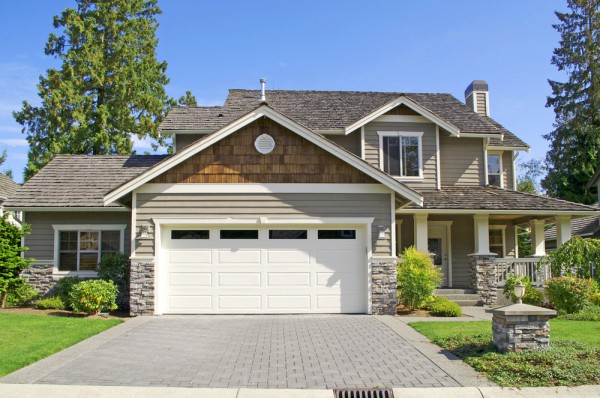 Cancelled Showings
Sellers are often confused when scheduled showings are cancelled or just don't happen as planned. However, buyers often drive by the homes they are planning to view before the appointment time. If they aren't impressed by that first view, they may cancel the showing. Similarly, potential buyers sometimes pull up to a home, take one look, and tell their agent they aren't interested. As a seller, it is crucial that you get potential buyers to stop and come inside your home.
Choosing a New Garage Door
If your existing garage door is in disrepair, your real estate agent has probably already recommended that you replace it. However, even a relatively new garage door that is in good shape may do nothing to enhance your home's appeal or its value.
The key to getting the most from a new garage door is choosing a door that is an extension of your home's architectural or decorative theme. Ideally, your garage door should fit into the style of the rest of your home. If you have an entry door with a transom and a foyer window, the windows in your garage door should echo their shape.
Alternately, garage door windows can have the same arch or geometric shape as decorative features on your home's front. For example, choose windows that mirror the fan-shaped trim over a door or the eye-catching curve of an oriel window.
Because a great curb view can help your home sell faster and net you a higher sale price, you should consider replacing your garage door. This is true even in a seller's market. Be aware, though, that you may love the way your home looks with your new garage door so much that you decide you don't want to sell after all.
G-Brothers Garage Doors is a Colorado based garage door repair and service company; they repair, install and replace garage doors – and everything in between. With thousands of satisfied customers, they can tailor our garage door installation and repair services to fit your individual situation and needs.