Every year, millions of high school pass outs take various entrance exams to secure a medical seat in a college. MBBS and other medical courses are held high than other courses in India. Medical graduates after completing specialty or post graduate medical education become doctors to serve millions of Indians. The condition of Indian health care system immensely depends on the nature of medical manpower it produces. All state, central and private medical colleges are playing a great role in producing eminent doctors for the wellbeing of our society. An undergraduate degree in medicine is not sufficient to build a successful career. Medical students are required to do specialisation in particular medical field to become a specialist. Find out here the basic pattern of medical education in India: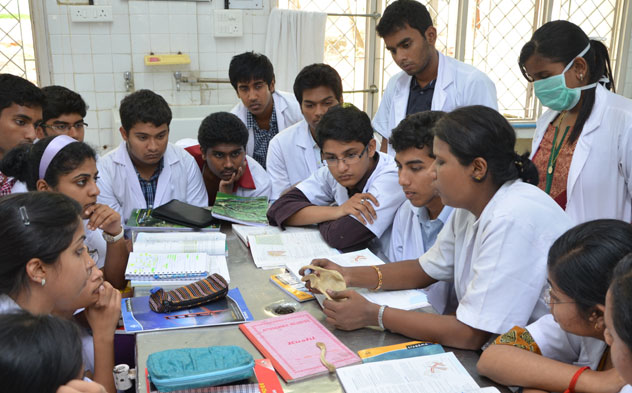 Undergraduate Medical Courses
MBBS (Bachelor of Medicine and Bachelor of Surgery): It is a 5.5 years which includes an extensive array of subjects such as pathology, pharmacology, general medicine, surgery, anatomy, physiology, and microbiology among others.
Bachelor of Dental Sciences: It's a five-year undergraduate dentistry degree that prepares graduates for a career as dental practitioner.
Pharm. (Bachelor of Pharmacy): It is a 4 years degree course in pharmacy. The degree is the prerequisite for a person to practice as pharmacist in India.
Other undergraduate medical courses include Bachelor of Homoeopathic Medicine & Surgery (BHMS), Bachelor of Ayurvedic Medicine and Surgery (BAMS), Bachelor of Veterinary Sciences & Animal Husbandry (BV Sc. & AH), Bachelor of Physiotherapy, Bachelor of Science in Nursing and Bachelor of Science in Nursing. Students can get admission to medical colleges in undergraduate medical courses after passing medical entrance exams such as CBSE AIPMT, KEAM 2015, AIIMS MBBS, JIPMER MBBS, etc.
Post-graduate Medical Courses
Master of Surgery (M.S.): This is a 3-years post-graduate course in surgery. Doctors with MBBS degree can only opt for MS degree. AIIMS provide specialisations in Surgery, Otorhinolaryngology (ENT) and Orthopaedics in its MS course.
D. (Doctor of Medicine): It is a 3-years post-graduate course in medication. Candidates with MBBS degree are entitled for MD course. With this degree, a doctor can practice as a Physician.
Various medical institutions also offer Postgraduate Diploma course in medicine. Admission in PG courses is done through PG medical entrance exams.
Specialty Medical Courses
DM (Doctor of Medicine): A doctor must possess a degree of M.D. to opt for DM course. DM is a 2-3 years specialty program in medicine. There are different specialisations such as cardiology, immunology, medical oncology, medical genetics, etc.
Master of Chirurgical (M.Ch): It is a super specialty degree in surgery. This 2-years course requires doctors with MS (Master of Surgery) degree.