Asus has announced a new smartwatch, The Vivowatch to Asus is a connected shows, especially dedicated to sports, A new Sportwatch connected thought for athletes. The key function of this gadget has been the ability to work without recharging for 10 days.
For now, we know little about it and it will be the official announcement to know its technical details and peculiarities. The manufacturer, however, had the extreme kindness to share photos with the camera and we have a pretty good idea of ​​its lines.
Few months ago, the CEO of Asus, Jonney Shih, tease on the autonomy of the next smartwatch society. As we had already read it, it will propose a low-power processor and a "simplified operating system." In other words, no Android Wear on board as indeed confirms this first image provided by the manufacturer.
Aesthetically speaking, It should thus be closer to ZenWatch with a rectangular dial with rounded corners. The resemblance is striking and a watch that has been so pre-announced but not yet submitted in proper form. That said, we already have the first details about the Asus VivoWatch. It is known in particular, this watch is certified IP67 and is resistant to water and dust.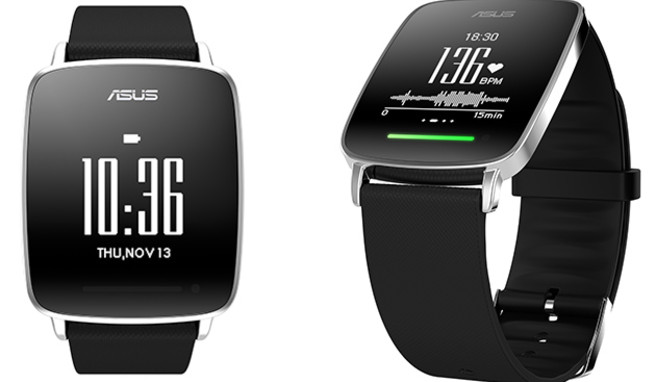 Please note that the VivoWatch is not powered by Android Wear
At design include a dial almost the same shape as that of the Asus ZenWatch but with a thinner frame and more sober, still metal. With extremely finishes and the latest two standard fasteners to hang bracelets to most of the market.
As mentioned just above, The VivoWatch will be built to last and will thus be able to withstand dust, splashes and immersions. Be careful though, because it does not need to submerge more than a meter deep either.
But its real strength is its autonomy as it is supposed to take about 10 days on a single charge, where most watches are struggling to exceed twenty-four hours. Asus has managed this feat by integrating a MediaTek chip and optimizing its platform.
However, Be careful not to celebrate too soon. The VivoWatch is not powered by Android Wear, but a house built on the Android platform. It is also thought for sport and doesn't offer the same features as its twin.
In reality, what we know, It will allow us to follow, especially our heart rate, Our efforts and the quality of our sleep.