Though it has been a long run for smart gadgets, the TV is still deprived of what it deserves. Every few months, some new enterprise shows up claiming to redefine the entire entertainment experience by turning the Idiot-Box into a Smart-box, but in the end, they all fail to create a well-integrated Television platform. It went down for the Google TV, which became a laughing stock in the industry rather than selling out in big numbers.
Soon, the search giant understood where it all went wrong and unleashed the highly touted Android TV in June 2014. Based on Android 5.0 Lollipop, the smart-TV platform is currently marching into our lives and is taking a dig against popular big-screen platforms. Google, with Android 5.0, clearly aims to create a more cohesive Android with seamless integration across all devices, including Android TV. Let us see why it is the best smart TV we should opt for:
1. A Digital World
Unlike other platforms, Android TV serves as a cohesive whole by creating a unique ecosystem of digital content with apps, games, movies, and a lot more. It brings an amazing world of digital content right to your living room, and takes home-entertainment to a completely new level. You can enjoy live television and interact with innumerable apps and Google Play Services on the biggest screen in your house. In other words, it is a treat for those gaming addicts and movie buffs who spend most of their time on a PC, TV, or smartphone!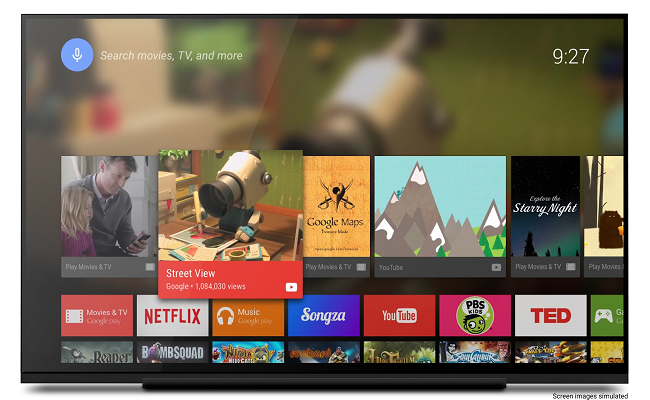 2. Smart Voice Search
We have already seen the best of Google with its superb voice recognition technology. It never fails to impress, and goes even better with Android TV that combines voice recognition with Google search and gives instant results. Whether your favourite sitcom or movie, Google will pull up instant results as soon as you will press the mic on your remote and call out Android TV for help. You can ask for something specific or can even look up something like "movies with Zac Efron" or "what's tomorrow's weather update?" This is feature gives reminiscence of Amazon's Fire TV, but considering Google's reliable search performance, Android TV certainly looks better and stronger.
3. Cast from Different Devices
One of the best things about Android TV is its ability to cast digital media content from different devices. Whether iOS, Mac, Windows, or Chromebook, the prolific smart TV from Google allows you to cast movies, TV shows, and other media right on your TV screen. The Android TV app on your smartphone makes this simpler by giving you a bunch of controls at the touch of a Cast button. Just tap this button and any movie or TV show will be ready to cast on your TV. Google offers this feature via app, but will soon add into Android TV remote.
4. Gaming Like No Other
Whether casual or all guns blazing, gaming on Android TV is a treat like no other. This immensely improved platform keeps a slew of games in store, and endows you the choice between single-player or multiplayer and online or offline. It takes mobile gaming experience to a whole new level with Android Lollipop, and offers complete support for most Google Play Store games on the big screen. On the plus side, for multi-player benefits, you can either connect a gaming controller or play with a friend who sits nearby and plays the same game on his smartphone or tablet.
 5. A bunch of options to choose from
Despite housing several features, Android TV looks incomplete until you're experiencing it on the biggest and sharpest display in the house. Google knows this very well and has enriched its products offering by partnering with renowned television makers such as Sony, Phillips, Sharp, and TP vision. These companies have already unveiled some prolific 4k and HD TVs with pre-installed Android TV, and will soon upgrade their product portfolio with new models featuring good looks and enhanced audio-video capabilities.
6. Ease of Access with Intuitive home-screen
The home-screen of your Android TV not only endows different categories to choose from, but also highlights recommendations on the basis of your viewing history on different apps. You can seamlessly experience the best of your favourite videos, music, and YouTube creators by scrolling through handpicked suggestions for TV shows, videos, and sports from apps like YouTube, Netflix and BBC iPlayer. The spectacular visuals and 3D graphics will come to life on the biggest screen of your home.
7. Streaming is easy, always!
Whether you're resting at home or visiting a friend, Android TV enables you to stream media content without any snags or login issues. The software automatically registers the new device in the room, and allows you to play any song or game on a decent pair of speakers. If, by any chance, there's an issue while syncing, Android TV highlights a quick connect PIN on the screen, which can be used to sync up in a matter of seconds.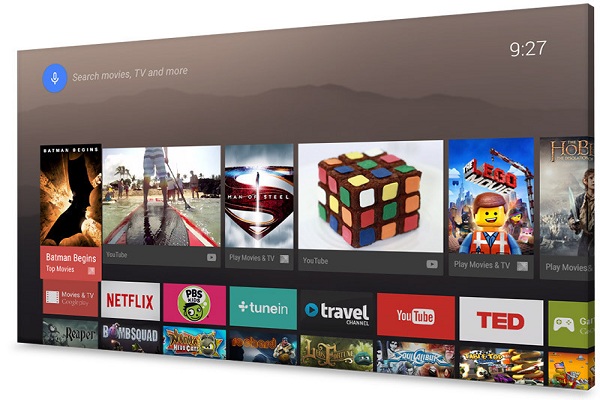 Therefore, here is why Google's latest TV offering is an ideal fit for your living room. It has a lot to get you excited, and will certainly get better in coming days with improved Android and new features. However, as of now, if you are shopping for a reliable and feature-packed smart TV for living room, no other option stands out against the mighty Android TV.
In a nutshell, you can either buy a new Television set with built-in Android TV, or you can connect your existing television to an Android TV device, which brings a plethora of features just at the touch of a button. Either way, this will be an exciting package for movie-buffs and all those users who want a lot more on their television, apart from routine TV sitcoms and channels. In India, Sony's Android TV range is the best buy, with prices starting from INR 65,000.