When commercial building owners and managers view commercial cleaning as an unnecessary cost, they may also begin to notice a reduction in productivity among their workers. The fact is, commercial cleaning is an investment that is well-worth it in the long run. There are a number of advantages offered when you maintain a clean workspace. Some of the most significant and tangible benefits you will see can be found here.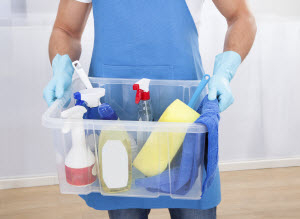 Improved Employee Health
When your workers come to the office each day, and it is dirty, grimy and dusty, it will not only reduce their productivity, but also their health. With so many people in an office or other multi-person setting, germs and bacteria can spread quickly. If these issues are not handled with quality commercial cleaning supplies daily, the number of sick days may increase significantly. However, when the environment is kept clean, tidy and germ-free, employers will likely notice a decline in sick days and an increase in productivity.
Create an Effective Marketing Tool
When a commercial space is cleaned on a regular basis it can create a new, effective marketing tool. For example, if you are meeting with potential clients, they are likely going to be impressed if the office is in pristine condition. Also, if you have additional workspace to lease to another business, they will be much more likely to rent if the space is clean and well-kept.
Protect Your Building Assets
If you own the commercial building, keeping the elements inside in good condition is a must for the building to retain its value. With a regular cleaning program in place, you can easily protect a number of assets, including your equipment, tile surfaces, flooring, carpet and more. This will also help to reduce repair costs down the road if you ever want to sell.
Aesthetic Appeal
Perhaps the most obvious benefit of a regular commercial cleaning routine is that it will increase the aesthetic appeal of the location. This is beneficial for customers and clients, as well as employees. No one wants to have to spend much time in a space that is dirty or appears unhealthy. Cleaning the space regularly will eliminate the potential of this happening.
With the right cleaning products and a plan, you can keep any commercial property looking great. In addition to making it a more appealing space, regular cleanings will also increase productivity. As you can see, the advantages far outweigh the minimal costs of purchasing the necessary cleaning supplies.