The calmness and relaxing effect of the aquarium is something to boast about. The depth of aquatic understanding enables you to penetrate deeper and hence derive greater pleasure from it. If you ever come across the thought of setting up an aquarium, make sure you have a perfect design in your mind. Beauty is both natural and artificial.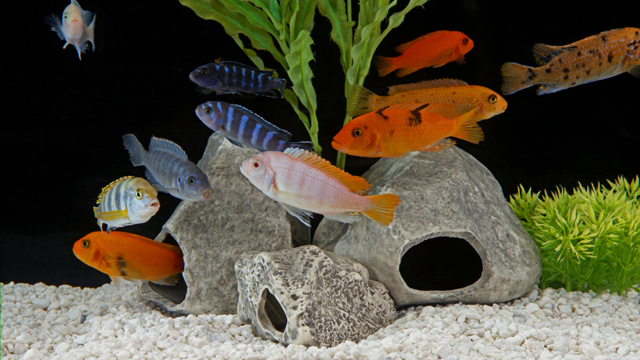 Of The Most Common Ways To Make Your Aquarium Look Attractive, Here Are A Few:
Wallpapers
Use of aquatic wallpapers often produces oceanic appearance and make the aquarium look more generic and beautiful. The aquarium usually blends perfectly with the wallpapers, provided it is decorated accordingly. Wallpapers are often cheap and all the same very attractive.
Stones And Plants
Stones, gravel and sand gives the aquarium the special appearance of the real aquatic scenery. They add the beauty of the aquarium in multiple ways and also help the fishes maintain their orientation. They serve as the flooring for the aquarium. Sand, preferably black or white, also provides an important breeding ground for the aquatic diggers. Decorative plants which can easily be bought from the shops concerned also add to the aquatic life. They help in up keeping the greenery of the aquarium while helping to circulate various gases in the water.
Shells And Other Decorates
Shells and other natural decorates can be used to artistically design a beautiful aquarium. Shells, both artificial and natural can be used. However my choice is more likely the artificially made ones, for the natural ones could house several parasites. Other decorates like shape stones, wood pieces, treasure chests and commonly available entities add uniqueness to the overall beauty of the aquarium. But before you place them in the aquarium, make sure that you heat and boil them just to keep them free of parasites and bacteria.