A successful trade show exhibition depends on many things – you need to be present at the right trade show exhibition for your particular company, brand, and product; you need to have the right trained and motivated staff who is willing to give it the effort it deserves; and you require the right displays and type of booth to make the best impression possible. Assuming you have the right staff and are indeed entering the correct trade show exhibition, you'll still need to find the right setup for what you have to show. Ever wonder how to make the biggest impact? Here's a look at the types of booths and displays you can use for a successful trade show exhibition.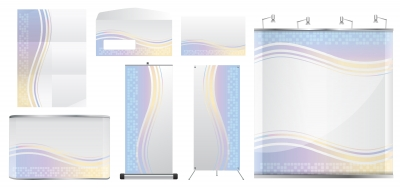 The Display
The roll up banner is the perfect display for any occasion, so make sure you have the pop up banner in your arsenal of promotional tools, regardless of what kind of booth you choose to work from. Pull up banners can be employed at your booth or at another location, giving directions to your booth. It can be used both as a backdrop and as a prominent feature at the showing area.
The Correct Booth
We are, of course, assuming that you have the availability of the booth you want, and that your budget allows for it. In order to help you weigh your options, here are the three most common booths – their advantages and disadvantages.
The inline booth. It's a standard 10 by 10 foot space that is in line with other booths – you'll need extra colours and a great banner to draw attention. It offers less flexibility than other kinds, and it's advisable to make the booth look bigger and brighter than it really is by adding extra lights so there are no dark spaces in the back corners.
The perimetre booth. It's perfect for media displays as well as banner stands on several sides. You'll have the chance to make your booth be seen from a distance, so use tall banners and other media displays.
The island booth. More expensive but highly visible. Go big. Go tall. Be extravagant!
In all cases your pop up banners will work wonders to display what you have on offer and to draw a crowd. Moreover, banner stands can be used in conjunction with other promotional tools you have available – and banner stands can be used in areas away from your booth. For example, a banner stand near the lobby or entrance of the venue with an arrow pointing the way is an excellent way to gather parts of the crowd to your place. Design them well, and you're sure to pique the customer's interest. The rest is up to your staff.