For women, shoes are important tool for upgrading their outfit. Good looking shoes can give you a gorgeous look and make you feel comfortable, while shoes that don't in fit you comfortably can cause pain and ailments such as blisters and muscle problems. Therefore, you have to look for a pair of shoes that fits your leg comfortably and matches with your general outlook. To make this task easy for you here are the nine shoe shopping rules that will guide you.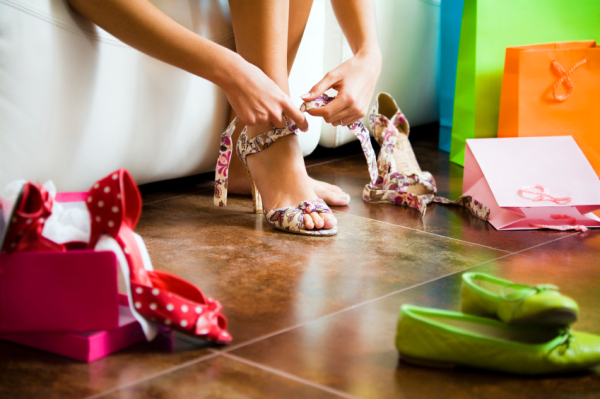 Consider your budget
Shoe Shopping is a challenging task because there are many type shoes that can attract your eyes. So before purchasing your shoes, you should consider your budget and have a list of shoes you want to buy. This will also help you to save some money.
Try on shoes later in the day
It is true that your feet tend to swell during the course of the day; hence purchasing your shoes in morning is not a wise choice. Purchasing shoes in evening provides your feet enough time to swell after all activities in the day and let you get right size for better comfort and fitness.
Try on a variety of styles, brands and sizes
Make sure you try different brands, sizes and styles of shoes that are available in the market. Keep trying until you find the shoe that give you the comfort or style than you are used to. This way you will buy shoes that will not disappoint you later.
Know what you're shopping for
Each shoe is designed differently to suit a specific group or activity. You must conduct research on the best types of women shoes you want to buy. A good shoe for women is the one that is made specifically for ladies.
Try on both shoes
It is very important to try shoes on both legs, the reason is that most people have difference in their foot sizes from one foot to another. The shoes that will be right for you to buy is the one that fits on your large leg perfectly.
Ensure you are able to move your toes freely
After considering the type and brand of shoe you want to purchase, consider whether your toes can move freely in the shoes or not, shoes that pinch or constrict your toes can cause pains and severe problems.
If you can't walk in it, avoid it
In the market there are many types of shoes that look amazing, but you can't wear them realistically, so to avoid buying shoes in which you can't walk, because it will be a wastage of money. Instead buy something practical.
Wear something cute
Every lady feels good when she look good, so you need to find shoes that match with your look. When you go to a shop for your shoes dress smartly and find shoes that suits and match with your clothes perfectly.
Consider wedges
Ladies love heels without understanding the effects heels will bring to their feet. High heel shoes cause ingrown toenails, hammertoes, bunions, blisters, neuromans and tendon injuries. So to avoid all these consider the size of the wedge shoes have, if it's too high for you then you should ignore and go for one that is seemingly flat.
For good and well-designed shoes particularly for women, visit JustFab. They will offer best shoes for you. In order to have a video review for every type of shoe offered by JustFab visit justfab.com video review.