Having a good plumbing system at home is very important. For those that would like to complete some plumbing projects on their own, being able to cut and connect pipes is very important. While it can seem like a complicated process that comes with risks, there are seven tips that someone could follow that would help them to better cut and connect pipes in their homes.
Use Thread Sealant
Thread sealant, which is commonly referred to as pipe doping, is one of the best tools and processes that a plumber has. This product is used to seal threads in a crack or space in a pipe. It can help you to bond two pieces of pipe together while minimizing the risk of leaks. When you are looking for a sealant you should look for one that does not harden. This will make it very easy to repair in the future if it is needed.
Caulk over Putty
When you are in the hardware store, one of the most common products you will see is plumber's putty. Despite the name of the product, it is hardly used by the professionals. As opposed to using this putty product, you should instead use a silicone caulk. This product will provide a very safe and long-lasting sealant that can last for years to come.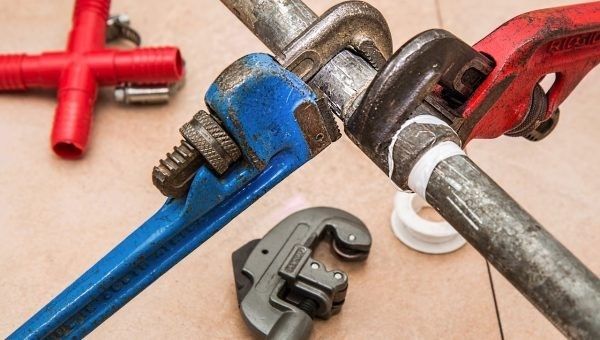 Use a String
While most people prefer to use heavy saws to complete bigger jobs, a pipe-cutting string can actually be a much better option. Pipe cutting string can be used after you cut a small notch into a PVC or other pipe. You can then create a very clean and accurate cut that will be balanced throughout the pipe. It is also much easier and safer to use.
Lubrication
When you are looking to cut a pipe made of aluminum or copper, you will also need to make sure the pipe is lubricated. If you try and cut a pipe without lubrication, it could cause the saw blade to crack. Through the use of standard candle wax, you can lubricate the pipe enough to ensure you are able to get a clean cut and not damage your blade.
Use the Right Tool
Most importantly, when you are looking to cut a pipe, you need to make sure you are using the right tool. There are many different types of pipes in homes today including those made of copper, PVC, and aluminum. If you use the wrong tool for the type of pipe, it could cause significant damage to the pipe and the tool.
Take Your Time
When you are cutting pipes, it is important that you take your time. Cutting and connecting pipes requires a lot of skill and precision. Because of this, you need to complete jobs when you have the time and patience to do so. Rushing the job could end up causing damage.
Contact the Pros
While these seven tips can be used to help you repair your pipes, you should still leave the big and emergency jobs to the professionals.
Jaxon Daniel is a retired plumber who enjoys hiking with his dog Vidia, dirt biking, and fixing up anything he can get his hands on. He also enjoys writing how to guides for DIY projects he takes on.