Is your garage somewhere that you like to spend time or just a place to park your car? At our house, the garage has become kind of a catch-all place for storing junk that we don't want to throw out but also don't want to have cluttering up our living space. I plan for that to change. So, I came up with a list of easy-to-implement ideas to makeover a tired, underutilized garage into a sleek, functional workspace.
1. Pretty it up with Paint
Step one: paint the walls. This one is an easy and cheap "do it yourself" option. A fresh coat of paint makes everything look cleaner and brighter. Choose classic white or gray walls, or if you are feeling bold do a brighter color. I'm thinking that an accent color like one of these on one wall would look fantastic.
2. Put in Functional Flooring
That drab cement slab is going to just look dreary next to your freshly painted walls. So update the floors with an epoxy coating or install decking, either of which you can install yourself for a reasonable cost. From a style perspective, I am partial to the black and white decking as seen here.
3. Improve the Lighting
If your garage is like mine, then the builder-grade lighting makes it feel more like a cave than a place to work. So have some industrial or can lights installed so that you can actually see what you are doing. I consider this a safety requirement.
4. Install More Storage Options
This is where you can really get creative. Go somewhere like this and get storage to fit your individual needs. Shelving can be mounted on the walls (or even the ceiling!) for storing sports equipment, seasonal decorations, work materials, and anything else that needs a home. I am definitely installing a tool rack for garden tools, a bike rack, bins for sports equipment and some shelving for general storage. This will clear up space in the middle of the room so that you can fit your car into the garage.
5. Create a Workbench
Finally, you need a large flat area at countertop height to use as a workspace. It can have storage on shelves above it to hold tools, and maybe storage underneath it for items like a shop vac or a chest-style tool kit. I would also recommend a seating option- preferably one that can slide below the counter if you need it to be out of the way. There are some stylish options here.
6. Build a Steel Kit Garage
"But what if I don't have a garage?" or "But my garage is too small!" you say, smugly. Well, I have a solution for that too. Build one from scratch! You can buy a customizable steel kit shed or garages in one of 22 different color varieties (I love the ironstone color) to fit the dimensions of your space. You can assemble it yourself or have the distributor do the building, but either way you will end up with exactly a space to fit your needs. We are considering this option to add a shed in the backyard that we can fix up to use as a home office. This is an excellent option for those of you who either don't have a garage, or need the extra space but can't expand on their current garage's footprint.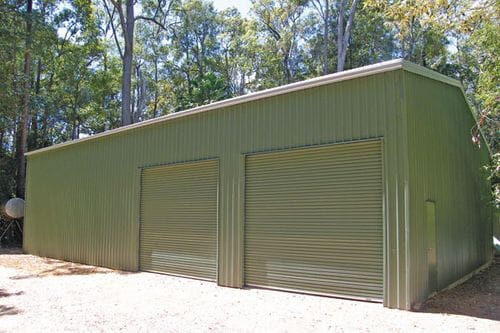 So, there you have it- six ways to get the garage space of your dreams. A bit of creativity and some hard work can provide you with the perfect garage or workshop to allow you to be more productive. Perhaps having a tricked-out, perfectly organized garage is just the catalyst you need to start doing more projects and making the rest of your home exactly what you want it to be.