Isn't technology the basis for…well, just about everything these days? It makes sense that to make an impact at your industry's biggest events, you should use technology to inspire and provoke the interest of attendees. There are two reasons to attend a conference, a trade show, or another type of event. The first is intelligence gathering; you listen to keynote speakers and learn about your competitors. The second is networking; you showcase your product and meet thought leaders in your industry. You may even pick up a customer or two… Basically, the point is to be impactful, and technology can help you do that, so here's five ways you can use technology to get the most out of your event.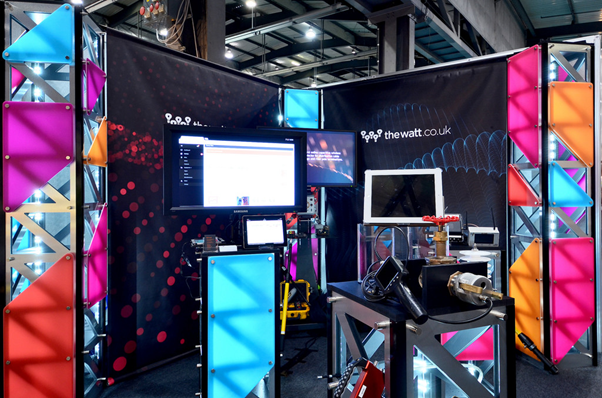 Download the Event App
Large events typically have a corresponding app, and maybe you've avoided downloading it because you're worried about the memory it will use on your phone or some other reason. The app's organizers aren't trying to sell you this app; it's actually designed to help you, so let it. Companies, such as DoubleDutch, create apps especially for events, so attendees can get the full experience and not miss important details.
Not only is this method greener, it could save you some green too. You may be offered a discounted ticket if only because you saved the organizers the cost of sending you a paper ticket. Event apps also allow you to plan, map, and engage with other attendees. It's free, so engage with it and use it to improve your event experience.
Use Your Phone to Pay
Events are busy. A prominent keynote speaker is going to draw a crowd, but speed pay can slow up the activities you engage in in-between speakers (or other notable draws). Waiting in line to grab a drink and some food, you can use your phone to quickly pay. Apple Pay and Google Wallet are two examples of ways you can scan instead of swipe, and thus save time. Overtime, more people will begin to pay using these convenient methods, which will cut down on wait times.
Play a Recorded Demo
If you're simply an event's attendee, you won't have a use for recorded demos (but, keep reading anyway because who knows when this information may come in handy). Recorded demos speak to attendees while you're engaged in other ways. You'll still want to give live talks, but when you're engaged the pre-recorded demo will play. Make these videos awesome, eye-catching visual demonstrations that play on a flat-screen television, monitor, kiosk, or tablet.
Set up a Wi-Fi Hotspot
If your phone has this feature (and the event isn't already offering free Wi-Fi), you can count on making some new connections simply by allowing people to piggyback on your connection. (Hey, why not suggest they download the event app while they're out it, so you guys can swap contact information?)
Most phone companies offer portable Wi-Fi hotspots, which you can use to make yourself the hero of the event. If you're setting up a booth or table, you can advertise that you're offering free Wi-Fi. Set up a sign, but don't list the username and password on the sign. Make them ask you for it, and after you've helped them get connected, ask them for a moment of their time.
Use a Tablet to Encourage Social Media Engagement
In conclusion, the final piece of advice is to use a tablet (or other user-friendly device) to encourage engagement. Keep a tablet at your booth, and ask people to use it to like your Facebook page or leave their contact information. Offer a raffle ticket or give a swag bag to attendees who like your page. It's all about incentive, but if you're offering something your target will be more likely to give something in exchange. Isn't technology marvelous?