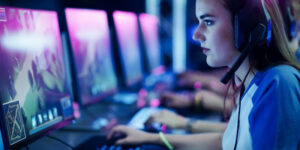 Gaming is fun and it has a long list of benefits. From improving our memory to enhancing our cognitive abilities, video gaming serves many purposes. Gaming also helps us sit back, let go, relax and, in that sense, it is a truly cathartic activity that does us major good.
Gaming enthusiasts would understand what we are talking about here. Think back to all those long, tiresome days on which you came back home and sought refuge in gaming, and it helped take your mind off things.
Gaming sessions can be very productive but only if you are not ignoring your body. Going on long gaming binges can have a tiring effect on you, especially if you are not paying attention to what your body needs.
Luckily, there is a way to counter gaming fatigue and make gaming a healthier activity. All you have to do is make thoughtful changes to your gaming space and gaming routine. Here are the top 5 tips for healthy gaming:
Our hearts remain functional all the time, but that is not true for our eyes. Our eyes require rest and that is why we need to blink intermittently and sleep at the end of the day.
When we are gaming, we forget to rest our eyes or even blink frequently. This can dry out our eyes, cause digital eye strain and damage them in the long run.
In order to avoid digital eye strain, you can take little breaks during your gaming sessions. You can also try reducing the lighting of your monitor to decrease the monitor glare.
Get a Racing Gaming Chair
Trust us, your back would thank you for this later. You must have experienced a peculiar ache in your shoulders, neck or back after long gaming sessions. That is caused by slouching in a regular chair. When you are gaming, you are not very mindful of your poise and posture.
Maintaining an improper posture for prolonged durations can lead to nightmarish backache, shoulder pain or neck strain, all of which can be avoided if you invest in a racing gaming chair.
Racing gaming chairs are designed according to ergonomic principles. By providing extra support to your back and shoulders, a racing gaming chair keeps your spine upright without making you uncomfortable.
Moreover, racing gaming chairs are also highly adjustable so they can easily be customised and made even more comfortable.
Try a Gaming Computer Desk
A gaming computer desk is another worthy investment if you want to keep yourself healthy. Gaming computer desks enable you to position your screen at just the right level and angle to reduce eye strain.
Gaming computer desks  are also adjustable which means that you can easily customise them to suit your needs. A plus point is effective cable management and increased storage space for your valuables.
Punctuate Long Sessions with Stretching Exercises
An engaging game can hold our attention for hours at a stretch but do not forget your body. Even if you are using a racing gaming chair already, doing some basic stretching exercises can help you ward away fatigue and rest your tired body.
Stretching exercises are also a great idea because they help reduce muscle tension and general anxiety. So, be kind on your body and perform a quick 5-minute stretch to make your gaming session healthier.
You can also couple your stretching with deep breathing exercises for an augmented effect. Not only would that reduce the risk of muscle strain and fatigue, but it would also help you focus and be more mindful during gaming.
We are back to the basics again with this tip. Remaining hydrated is important for your health but we tend to forget that when we are engrossed in an intense gaming session. That is not just bad for your health but also for your gaming session.
Getting dehydrated can make you feel lethargic and keep you from enjoying your video game. You might even feel lightheaded, hazy or dizzy if you remain parked in front of your screen without budging to take a few sips.
That is why it is important to keep a bottle of water nearby. Make it a habit to take little breaks to drink water.