We often notice a change in our thinking pattern and behavior which lasts for a few hours to days. The reason behind this is the change in level of happy hormones in human body, which can be the result of increased stress levels, hectic life style, trauma, personal problems and many more. During such times, we may not be able to focus on the important things of our life, and start worrying about things that have no significance in life.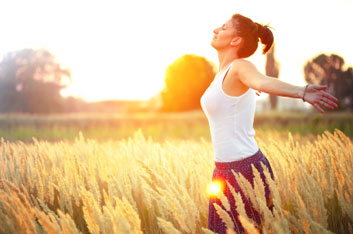 Serotonin is the happy hormone that plays a very important role in our mental and physical health. Deficiency of serotonin will result in depression, anxiety, anger, obesity, insomnia, pre-menstrual syndrome and many other health conditions. If you want to refocus your efforts and get through difficult moments, you should increase the level of happy hormones in your body. There are many ways to increase the level of happy hormones, such as – change in diet, exercise, anti-depressants, health supplements etc. Below are some effective tips and tricks that help you boosts the happy hormones instantly, relieving you from worries and tension.
Eat spicy and yummy food : Spicy food triggers endorphins instantly and increases the level of happy hormones. You can also have something rich in carbohydrates, as they are known to increase serotonin levels. Choose healthy and high fiber sources of carbohydrates such as – whole grains, eggs, fresh fruits and vegetables for the best mood with less negative impact.

Do pleasurable things : Doing things you love will have an impact on good hormones. Spend time with your kid, partner or someone whom you love. Hug someone to get an instant Oxytocin bonus. Be sure to hug the person who is near and dear to you. A half-minute hug with someone who is dear to you and whom you trust is all that takes the neurons fired up.

Spend time with family and friends : The serotonin levels will significant increase by spending time with family and friends triggers. When you are active with someone you are close with, you will feel good. Additionally, the hand to body contact will help you release happy hormones. It can be either watching a romantic movie or getting a massage.

Try aromatherapy : Aromatherapy is known to have a significant impact on your mind, body and soul. You could light a flavored candle in the room and enjoy the scent released from it. It will boost your endorphins and masks the physical and emotional pain.

Get out in sun or do some exercise : We all know that the body will get good amount of vitamin D by getting out in sun. However, researchers say that bright light increases serotonin and help you fight depression, anxiety, anger and other related symptoms. You can also go for a brisk walk or do yoga to release all the happy hormones, such as serotonin, estrogen, dopamine, etc.
Besides the above, there are a number of ways to increase the level of happy hormones such as – laughing loudly, meditation, good sleep, staying calm etc. All these things tend to increase happy hormones and keep your happy.