Regardless of what we do, fear could bind and restrict us. It could leach the excitement from any kind of activity. Often, we don't know why we feel so frightful. Paragliding is one of activity where we could finally lift our feet from the ground and literally fly in the air. There are ways we can do to assure ourselves before we paraglide:
1. Glider is very unlikely to Collapse during Flight
Modern gliders have undergone numerous aerodynamic tests, which focus on performance and stability. Beginners could choose glider that matches their experience level, such as the DHV1 model. In fact, gliders could recover itself during flight when left unattended for a while. Glider won't collapse in the air, because its stability and rigidity are designed to withstand manoeuvres and wind speed far beyond what we normally encounter. For this reason, we shouldn't choose unrated gliders that may have not undergone proper testing.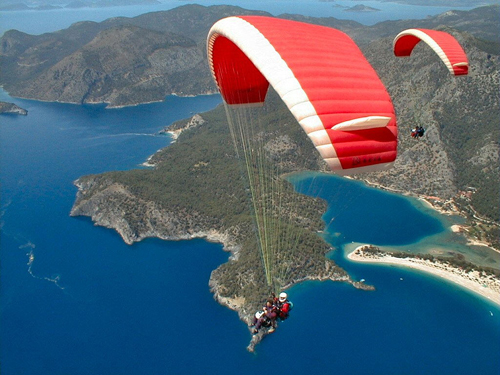 2. We can prevent our Equipments from Failing
Gliders undergo severe load test before released for public use. We need to make sure that the glider has proper DHV or AFNOR rating, so it will become practically indestructible when flown under loads. Before flight, we should check each component of the glider and make additional pre-flight checks, minutes before the actual take off. Things to check include wing, suspension, harness and protection. We could also bring reserve parachutes for additional safety and a way to comfort us psychologically. The glider should also be checked by representative from the manufacturer, at least once a year.
3. We can always Land with Paraglider
Making paraglider to descend is reasonably easy and only in very strong wind we will be unable to make proper attempt to descent. So, it is unlikely that we will be disappear in the sky and glide for eternity. In this situation, we only need to be vigilant and watch for the developing cumulonimbus cloud. Although it won't appear instantly, we should be particularly vigilant. To be sure, we shouldn't fly if there is a cumulonimbus cloud within 30km radius of our area. It could induce very strong upward wind that makes it difficult to control the paraglider.
4. Mid-Air Collision is unlikely
It takes two flying objects to cause a mid-air collision and one of them is us. If we are flying with other paragliders in the area, it is important to practice defensive flying. In general, paragliders fly at the same speed and we should use normal speed when there's at least one paraglider in the area. Just like driving a car, we need to watch our paragliders and keep a safe distance. We should create a safety bubble around us and make immediate turn if a paraglider approaches. We should check around us before we alter our course. We need to maintain our space and keep a further distance away if a paraglider in the area seems to fly erratically.
Paragliding is one of the safest extreme sports and we are protected by standards and properly-tested components.