Everyone wants to reach pinnacles in their profession to succeed and become the best in their business. A good teacher is, perhaps, the main sign that we define a school. But what a good teacher should be, sometimes it is not easy to answer even to oneself. A good teacher can be different and should be knowledgeable, mentally adequate and able to transfer knowledge to the student. Here are few more Qualities mentioned below for a virtuous teacher: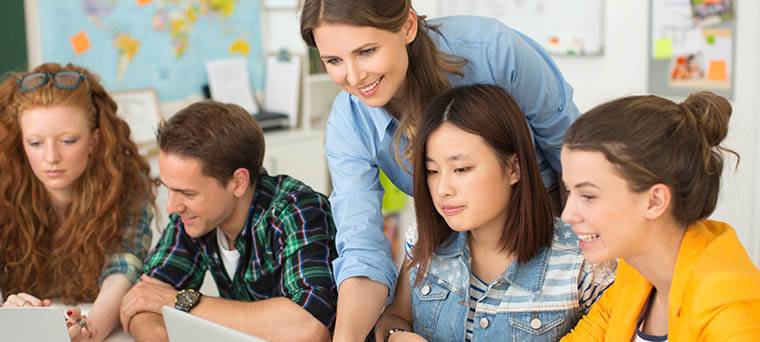 There is an absolutely universal skill that highlights at once many aspects of the teaching activity. A good teacher does not ask stupid questions to students.
A good teacher asks questions often, students can answer, they are his main tool. And his questions always cause more or less interest, at least among some of the students. These should be slightly suggestive questions or questions that seem to open up to the students a view of the further educational road.
A good teacher does not humiliate his students with physical punishments, bullying, abuse or does not troll them, and do not nudge one part of the class to another these are considered as the basics of teaching.
An authentic teacher can also properly treat those students who for some reason do not like his subject. And he knows how to give a worthy rebuff to students who are trying to fight him for power in the classroom or to mock him.
Even if the student is a real enemy, whose goal is to suppress and humiliate the teacher, a good teacher will not use it in his struggle with his methods because a psychopathic student will learn other methods of interaction if the teacher does not give him an example.
A good teacher is not equal to his students, even if the age difference is several years old. He is qualitatively more adult. This manifests itself in his ability to take responsibility for the momentary situation in the classroom, and in the case of primary school and for the long-term atmosphere in it.
As in any work with people, it does not hurt to be empathetic in the context of teaching it means being able to understand the student's problem, to penetrate and sincerely want to help solve it. In another way, this is called interest, which involves revealing the true purpose of the student and a relationship of understanding between a teacher and his pupils.
Another obvious thing that can be attached to empathy is friendliness. Everyone knows how much a simple smile can change the attitude. Therefore, its pensive and gloomy face must be left outside the class.
Many students want to see in the teacher a person infatuated in the subject. It is much more interesting and pleasant to engage with those who enthusiastically and joyfully bring students to knowledge than with a person indifferent to what is being said at the lesson.
At times, students may lose their temper and create problems with behavior in the lesson, poor or slow perception of the material, absent-mindedness and lack of attention in the lesson. Therefore, whatever happens in the class, stay calm and be patient. Moreover, everything is fixable so problems with behavior mean that teacher need to be stricter, poor or slowly perceived material or give the student more time (after the lesson, additional work, etc.). Maybe the student is often distracted so, shorten the duration of tasks, change frequently kind of activity, Therefore, teachers need to handle the situation maturely.
The teachers, who do not care the greatest returns from the students and the best learning are more successful. Therefore, the dedication to business in the sphere of education echoes with empathy, creativity, and enthusiasm. In addition to taking into account the wishes of the students, it includes a clear planning of the lesson with the application of effort and ingenuity.
This profession requires full commitment, readiness to work, to work tirelessly, constantly to do something.
One of the important points is to be always organized and punctual. Surely teachers do not like when students are late similar students don t like it too.
It is necessary to be able to effectively communicate with people. This is a modern skill necessary for any person working with people, and compulsory for a teacher. It is important to be able to communicate not only with students but also with colleagues, parents of students, employers, methodologists, etc.
Author Bio
Sophia Lawrence is a brilliant lecturer in a respectable Nation Education organization. She remains alert to the modern dexterity that can support him for the better teaching expertise. On the contrary hand, she also offers recommendations and useful assistance in UK Essay Writing services for the students.